Luck of the Irish: Haunted Attractions Opening for Some St. Patrick's Day Horror
March 2, 2020 By Chelsea T.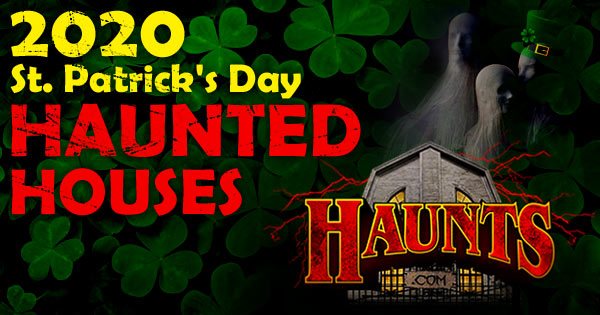 St. Patrick's Day is arriving next month and a ton of haunted attractions throughout the country are hosting special events. If you're someone who loves a good scare no matter the time of year, a St. Patrick's Day themed haunt is perfect for you!
Along with the holiday, March is also blessing us with a Friday the 13th! This only adds to the creepiness. Check out our list of haunted houses that will be open on or around St. Patrick's Day and prepare for a terrifying twist for this Irish holiday.
Alabama
The Fright Guys - Harvest
302 W. Willow St. Scottsboro, AL 35768
256-599-9879
Open: 3/20, /21, 3/22, 3/27, 3/28 & 3/29
Nightmare at 3008
1731 Decatur Hwy. Fultondale, AL 35068
205-913-4506
Open:
California
All Saints Lunatic Asylum
22521 Shawnee Rd. Apple Valley, CA 92308
760-953-6730
Open: 3/13
Connecticut
Fright Haven
411 Barnum Avenue Cutoff, Stratford, CT 06615
203-795-4737
Open: 3/13 & 3/14
Georgia

Lake Joy Trails of Terror
428 Lake Joy Rd. Kathleen, GA 31047
478-338-4062
Open: 3/13 & 3/14
Folklore Haunted House
5389 N. Main St. Acworth, GA 30101
Open: 3/13
SCREAMZ Haunted Experience
4902 Main St. East, Hoboken, GA 31542
Open: 3/13


Illinois
Basement of the Dead Haunted House
42 W. New York St. Aurora, IL 60506
630-896-2466
Open: 3/13 & 3/14
Indiana
Malice Manor
640 Providence Way, Clarksville, IN 47129
812-924-7727
Open: 3/13
Shattered Nightmares
1609 Lafayette Avenue, Terre Haute, IN, 47804
Open: 3/13 & 3/14
Michigan
Factory of the Dead
906 Lapeer Ave. Saginaw, MI 48607
559-666-3323
Open: 3/13 & 3/14
New Jersey
Brighton Asylum
2 Brighton Ave. Passaic, NJ 07055
201-716-2827
Open: 3/13 & 3/14
New York
Bayville Scream Park
8 Bayville Ave. Bayville, NY 11709
516-624-4678
Open: 3/13, 3/14 & 3/15
North Carolina
Haunted Forest at Panic Point
2808 Cedar Creek Rd. Youngsville, NC 27596
919-526-8612
Open:

Reapers Realm Haunted House
1610 Daugherty Rd. China Grove, NC 28023
704-857-7357
Open: 3/13 & 3/14
Ohio
Factory of Terror Haunted House
4125 Mahoning Rd. NE, Canton, OH 44705
330-455-3327
Open: 3/13 & 3/14
Haunted Town Hall
103 S. High Street, Lafayette, OH, 45854
Open: 3/13 & 3/14

Wells Township Haunted House
101 Market St. Brilliant, OH 43913
304-723-6408
Open: 3/13
Pennsylvania
Castle Blood
100 Schoonmaker Ave. Monessen, PA 15062
412-215-5635
Open: 3/13 & 3/14

Field of Screams
191 College Ave. Mountville, PA 17554
717-285-7748
Open: 3/13
South Carolina
Kreepy Hollow
1155 Joe Dority Rd., Bishopville, SC 29010
803-428-2013
Open: 3/13, 3/14, 3/20 & 3/21
Tennessee
The Scream Chamber
Highway 11, 1163 North, Athens, TN 37303
423-506-6761
Open: 3/13
Texas
Creepy Hollow Haunted House
12872 Valley Vista Dr., Rosharon, TX 77583
800-357-3323
Open: 3/13 & 3/14
Dark Hour Haunted House
701 Taylor Dr. Plano, TX 75074
469-298-0556
Open: 3/13 & 3/14
Utah
Asylum 49
140 E. 200 S., Tooele, UT 84074
435-882-8856
Open: 3/13 & 3/14
Virginia
RED VEIN Haunted House
13580 Ashland Rd. Ashland, VA 23005
804-829-3327
Open: 3/13, 3/14 & 3/15
The Warehouse
313 Legion St. Weber City, VA 24290
423-677-7875
Open: 3/13 & 3/14
West Virginia
Haunted Majestic
6100 Kyle Ln. Huntington, WV 25702
304-416-0445
Open: 3/13
Infernum in Terra Haunted Attraction
4302 Jacob St., Wheeling, WV 26003
833-428-6837
Open: 3/13 & 3/14