Haunted Attractions Throughout the U.S. Opening their Doors for Valentine's Day
January 15, 2020 By Chelsea T.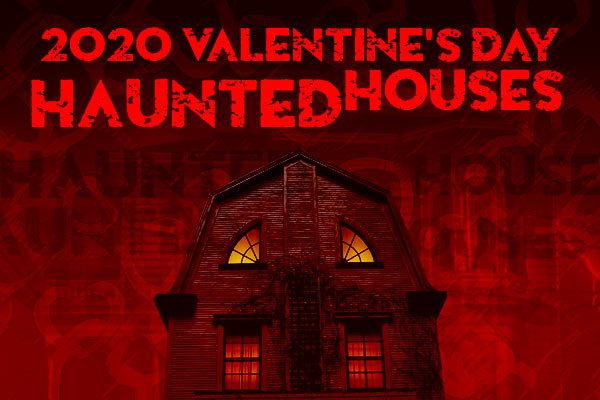 Although the Halloween Season has come and gone, there are a number of haunted attractions throughout the country who will be opening their doors to thrill seekers this Valentine's Day. If that special someone in your life is a Halloween and Horror fanatic, a Valentine's Day haunted house is the ideal date night!
And there's nothing wrong with putting a twist on the traditional this year. Check out our list of Valentine's Day Haunted Attractions across the nation below and find out if there's any open nearest you!
Alabama
Nightmare at 3008 Presents: Valentine's Massacre
Open: Feb. 14th & 15th
1731 Decatur Highway Fultondale, Alabama 35068
(205) 913-4506
Arkansas
The Expelled Presents: My Bloody Valentine
Open: Feb. 15th
29555 Highway 23 Huntsville, Arkansas 72740
479-466-8556
California
All Saints Lunatic Asylum Presents: Two Hearts Together... Forever
Open: Feb. 14th & 15th
22521 Shawnee Rd. Apple Valley, CA 92308
760-953-6730

Fear Overload Scream Park Presents: A One-Of-A-Kind Valentine Haunt
Open: Feb. 8th, 14th & 15th | 7-10 PM
15555 E. 14th St., San Leandro, CA 94578
510-730-2221
Ultimate Terror Scream Park Presents: A One-Of-A-Kind Valentine Haunt
Open: Feb. 8th, 14th & 15th | 7-10 PM
4909 Auburn Blvd., Sacramento, CA 95841
530-794-8511
Colorado

13th Floor Haunted House Presents: Love Bites
Open: Feb. 14th & 15th
3400 E. 52nd Ave. Denver, CO 80216
303-355-3327
Connecticut
Fright Haven Presents: Valentine's Massacre
Open: Feb. 14th, 15th & 16th
411 Barnum Ave. Cutoff, Stratford, CT 06615
203-799-FEAR
Florida

13th Floor Haunted House Presents: Love Bites
Open: Feb.
9230 Arlington Expressway Jacksonville, FL 32225
904-479-9629
Georgia
Folklore Haunted House Presents: My Bloody Valentine - 'Till Death Do Us Part
Open: Feb. 14th & 15th
5389 N Main St. Acworth, Georgia 30101

Lake Joy Trails of Terror Presents: Cupid's Hell
Open: Feb. 14th & 15th
428 Lake Joy Rd. Kathleen, Georgia 31047
478-338-4062
Netherworld Haunted House Presents: Scream in the Dark
Open: Feb. 15th
2076 West Park Place Blvd. Stone Mountain, Georgia 30087
404-608-2484

Illinois

13th Floor Haunted House Presents: Love Bites
Open: Feb. 14th & 15th
1940 George Street Melrose Park, IL 60160
708-571-3326
Basement of the Dead Haunted House Presents: Valentine's Day in Wonderland
Open: Feb. 14th & 15th
42 W. New York St., Aurora, IL 60506
630-896-2466
Factory of Fear Presents: Love is Blind
Open: Feb. 7th & 8th
5027 4th Ave. Moline, Illinois 61265
309-631-0558

Indiana
Fear Fair
Open: Feb. 14th & 15th
800 A Ave. E. Seymour, Indiana 47274
812)-567-3327

Hysterium Presents: Psycho Valentine: Love is in the Scare
Open: Feb. 15th
4410 Arden Dr. Fort Wayne, Indiana 46804
260-436-0213
Michigan
Awaken Haunted Attraction Presents: Love Bites | Total Blackout
Open: Feb. 14th & 15th
4760 Churchill Rd. Leslie, Michigan 49251
Factory of the Dead Presents: Valentine Massacre
Open: Feb. 14th & 15th
906 Lapeer Ave. Saginaw, Michigan MI
(559) 666-DEAD (3323)

Hush Haunted Attraction
Feb. 14th & 15th
37550 Cherry Hill Westland, Michigan 48185
734-502-6026
Missouri

The Darkness Haunted Attraction Presents: Love Kills | The Live Experience
Open: Feb. 15th
1525 S 8th St., St. Louis, MO 63104

Louisiana
Devil's Knot Presents: Bloody Valentine
Open: Feb. 14th & 15th
2663 Mayflower Rd. Haughton, LA 71037
318-349-2329

New Orleans Nightmare Presents: Love Bites
Open: Feb.
319 Butterworth St. Jefferson, LA 70121
504-224-9140
New Hampshire
Fright Kingdom Presents: Forever Mine
Open:
12 Simon St., Nashua, NH 03060
603-809-1173
North Carolina
Hollerin' Haunts Hayride Presents: My Bloody Valentine
Open: Feb. 8th & 15th
2914 Bud Johnson Rd. Clinton, North Carolina 28328
(910) 818-2240

New Jersey
Brighton Asylum Presents: Dark Valentine
Open: Feb. 14th & 15th
2 Brighton Ave. Passaic, NJ 07055
201-716-2827
New York
Bayville Adventure Park Presents: Vampire Valentine's Haunted House
Open: Feb. 14th, 15th & 16th
8 Bayville Ave. Bayville, NY 11709
516-62-GHOST
North Carolina

Hollerin' Haunts Hayride Presents: My Bloody Valentine
Open: Feb. 8th & 15th
2914 Bud Johnson Road Clinton, NC 28328
910-818-2240

Ohio

13th Floor Haunted House Presents: Love Bites
Open: Feb. 14th & 15th
2605 Northland Plaza Drive Columbus, OH 43231
614-344-4484
Oklahoma

Guthrie Haunts Presents: My Vexed Valentine
Open: Feb. 14th & 15th
4524 Riverside Circle Guthrie, OK 73044
405-243-7671
Texas
Dark Hour Haunted House Presents: Fever
Open: Feb. 14th & 15th
701 Taylor Dr., Plano, TX 75074
469-298-0556
House of Torment Presents: Love Bites
Open: Feb. 14th & 15th
2632 Ridgepoint Drive Austin, TX 78754
512-407-9449
Utah
Dead City Haunted House Presents: Love Bites - A Vampire Valentines
Open: Feb. 14th
5425 S. Vine St. Murray, UT 84107
801-890-5335
Virginia
Frightmare Haunted House
Open: Feb. 15th
1905 S. Military Hwy.
Chesapeake, VA 23320
757-937-9139