3D Clown Haunted House, 'Mutant Paintball' and More To Open At Haunted Hills Estate Scream Park
September 2, 2022 By Haunt News & Press Releases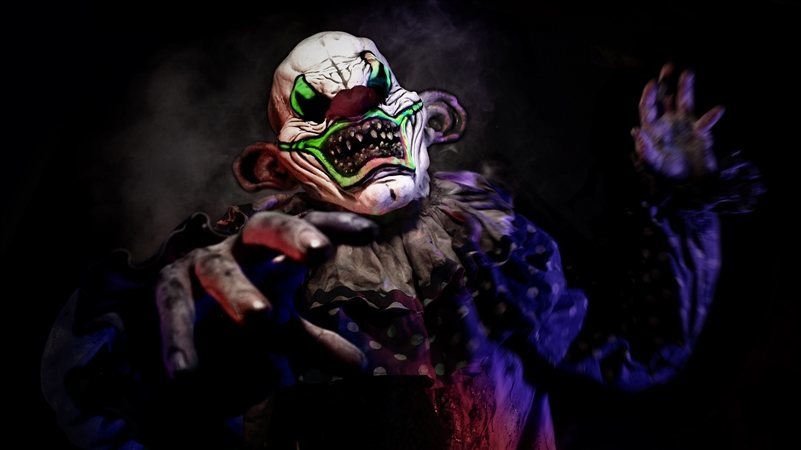 Between highly-anticipated releases such as Hocus Pocus 2, Rob Zombie's The Munsters and Tim Burton's Addams Family spinoff Wednesday, this coming Halloween Season is set to be one of the biggest in recent years for lovers of all things spooky. Off the screen, however, one of the largest Haunted Attractions in the Western PA / West Virginia area is preparing to debut some of the most unique and elaborate Haunted Houses ever seen in the region.

Haunted Hills Estate Scream Park, which opened in Uniontown in 2004, has grown from a small family business into a festival-sized park, becoming one of the area's highest-rated seasonal scare venues over its 19-year history. This autumn, the park will be opening adding three brand-new attractions for the 2022 season, as well as a few other scary surprises.

The most significant addition for this year comes in the form of Twisted Nightmare 3-D, a walk-through attraction that combines high-tech effects, horrifying, distorted clown characters, and Chromadepth 3D technology to produce a dizzying trip through a nightmarish funhouse, where not all is as it seems.

The park commissioned custom Ultra-Violet-Reactive masks and costumes from special effects artists in Los Angeles, and even hired Pacific Northwest-based artist Dutch Bihary (as seen on the TV show Skin Wars) to create custom airbrushed murals that react to the specific lighting used in the attraction.

"For 19 years, our customer base has asked for a greater concentration of clowns;" says Aidan Finnegan, Director of Marketing and one of the park's designers. "We personally felt that clowns were a bit overdone in Haunted Attractions, so if we were finally going to cater to the Coulrophobiacs, we'd have to pull it off in a very different way." Finnegan says that the resulting attraction, and its subsequent storyline, go in a direction that other Clown Haunted Houses haven't - a surrealist horror comedy, incorporating elements of H.P. Lovecraft, 80's Sci-Fi Horror Movies, and character designs that would fit into films such as Killer Klowns From Outer Space. "The clowns are terrifying and abundant, but the real "kicker" is what's really going on beneath the surface."

The park will begin its 2022 operating season on Friday, September 9th; and as a promotion, All General Admission tickets (normally $35) will be $5 off on Opening Night. Also debuting at the park this year is a Mutant Paintball experience, as well as Stalker Hollow Corn Field, where visitors must survive encounters with Cryptids. The Park's creative team has added new walk-through sections to their "fan favorite" attraction, The House, as well as a new interactive "flashlight" element. Visitors to the decrepit mansion will get to scream through a longer, more terrifying labyrinth than ever before.

The park's longest offering, however, has also been given an upgrade. Patrons brave enough to trek through the famed "Woods Trails" that gave the park its reputation in the 2000's, will experience new sections of path, new effects, and several new scenes in "The Burial", "Deadwoods", and "Sin Creek." "We never rest in peace - since November, our team has been working full-time throughout the year to renovate our existing attractions, and add the brand-new Twisted Nightmare 3D and Mutant Paintball," says Jackie Loveall, owner and founder of Haunted Hills Estate Scream Park.

Those seeking to satisfy their sweet tooth this Halloween season can order a "Scream Park Shake" or a "Twisted Nightmare Shake" at Day & Night Exotic Cereal Bar in Morgantown. Combining elaborately-decorated ice cream shakes with bits of Halloween-related Cereal, these two unforgettable tie-in menu items will be available at the High Street location from September 1st until October 31st.

The fun and frights don't stop after Halloween. Haunted Hills Estate Scream Park presents a yearly Haunted Christmas event, which was named by The Travel Channel as one of the Top 10 Scariest Christmas Haunted Houses in the Country, as well as a Haunted Valentine's Weekend in February, and a Saint Patrick's Day Massacre in March, which attract thousands of horror fans outside the standard Fall offerings.

The Scream Park will reopen on September 9th and will run weekend nights through November 5th. Tickets can be purchased online or at the event. Haunted Hills Estate Scream Park is located at 236 Rolling Hills Estate Road in Uniontown, PA. Guests can visit www.HauntedHillsEstate.com for tickets and more information.
Photo Gallery