You Bring The Pizza, Fright-Rags Will Bring The SLUMBER PARTY MASSACRE, MY BLOODY VALENTINE, & DRACULA Apparel
February 18, 2020 By Chris B.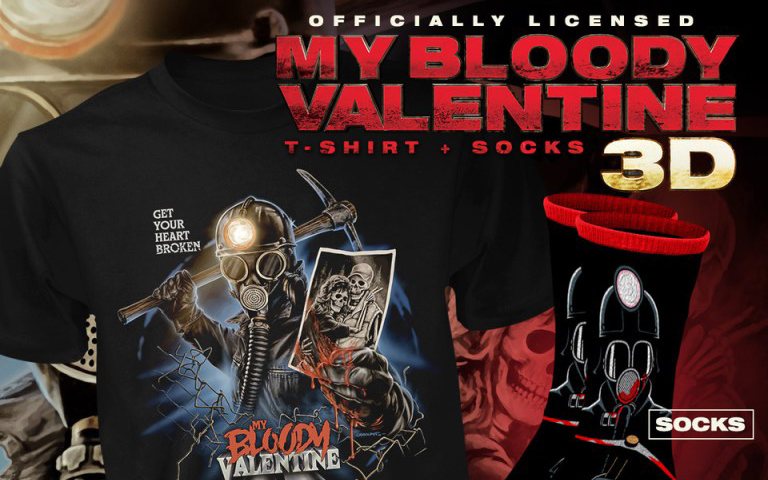 Merchandise for My Bloody Valentine 3D, the classic slasher flick, is now being served fresh at Fright-Rags.
Photo by:
Fright-Rags
You bring the pizza, Fright-Rags will bring the horror movies! Slumber Party Massacre 1 & 2, My Bloody Valentine 3D, and Bela Lugosi merchandise is now being served fresh.
Fright-Rags drills into Slumber Party Massacre 1 & 2 for killer apparel. The collection includes three designs from 1982 slasher, including baseball tees and hoodies, along with two from its outrageous sequel, including a two-sided tour shirt.
Just in time for Valentine's Day, Fright-Rags is breaking hearts with a reissue of its popular My Bloody Valentine 3D shirt. A pair of Harry Warden socks are also available to complete the look.
Children of the night will love Fright-Rags' Bela Lugosi collection. Sink your fangs into two new shirts along with a reprint of a popular design featuring the classic horror icon as Dracula.
Slumber Party Massacre, My Bloody Valentine, and Bela Lugosi collections are on sale now at Fright-Rags.com.