Get in the Holiday Spirit with these Christmas Haunted Attractions!
November 30, 2019 By Chelsea T.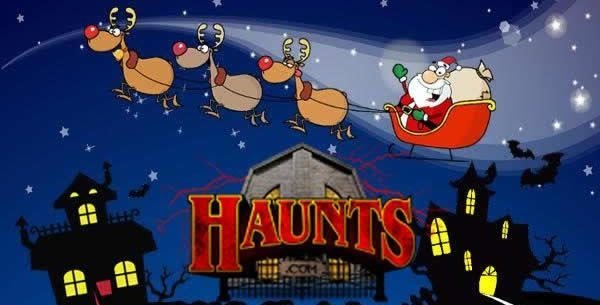 Halloween may be over but there are a ton of Haunted Attractions throughout the country that are opening their doors for the holidays. Put a terrifying twist on your celebrations this year by checking out some holiday horror! Take a peek at our list below to find out which attractions nearest you will be open during the Holiday Season.
Alabama
Nightmare at 3008 Presents: Christmas Toy Drive
1731 Decatur Hwy. Fultondale, AL
205-913-4506
Open: 12/6, 12/7 & 12/13
The Fright Guys Harvest
302 W Willow Street, Scottsboro, AL, 35768
Open: 12/1, 12/6, 12/7 & 12/8
Arkansas
Mortar Creek Haunted Trail
49 Sherrill King Drive, Quitman, AR, 72131
Open: December 28th
Twisted Intent
706 Center Street, Benton, AR, 72015
Open: December 13, 14
California
All Saints Lunatic Asylum Presents: Christmas at the Asylum
22521 Shawnee Rd. Apple Valley, CA
760-953-6730
Open: 12/13 & 12/14
Higbee Horror Haunt
2936 Veneman Avenue, Modesto, CA, 95356
Open: 12/13, 12/14
Hellscream Haunted House
3021 N Hancock Avenue, Colorado Springs, CO, 80907
Open: 12/13 & 12/14
Colorado

13th Floor Haunted House Presents: Krampus: A Haunted Christmas
3400 E. 52nd Ave. Denver, CO
303-355-3327
Open: 12/13, 12/14, 12/27 & 12/28
Connecticut
Fright Haven Presents: Frightmare Before Christmas
411 Barnum Avenue Cutoff, Stratford, CT
203-799-FEAR
Open: 12/20 & 12/21
Florida
13th Floor Jacksonville Presents: Krampus: A Haunted Christmas | Chapter 2: Jack Frost
9230 Arlington Expressway, Jacksonville, FL
904-479-9629
Open: 12/7, 12/13 & 12/14
Chamber of Terror
207 W Oklahoma Ave, Tampa, FL, 33616
Open: 12/13
The York Drive Project Haunted House Experience
3502 York Drive West, Bradenton, FL, 34205
Open: 12/13 & 12/14
Illinois
13th Floor Chicago Presents: Krampus: A Haunted Christmas | Chapter 3: Holiday Spirits
1940 George St. Melrose Park, IL
(708) 571-3326
Open: 12/7, 12/13 & 12/14

Baldwin Asylum Haunt Presents: Holiday House of Horrors
2040 Lon Dr. Rantoul, IL
217-390-4543
Open: 12/7, 12/13 & 12/14
Basement Of the Dead Presents: A Very Scary Axe-Mas
42 W New York St. Aurora, IL
630-896-2466
Open: 12/13, 12/14 & 12/21
Midnight Terror Haunted House Presents: Christmas Fear: A Christmas Haunt
5520 W 1 11th St. Oak Lawn, IL
708-571-0266
Open: 12/13, 12/14 & 12/15
The Massacre Haunted House
299 Montgomery Road, Montgomery, IL, 60538
Open: 12/13, 12/14, 12/20 & 12/21
Disturbia Haunted Attraction
1213 Butterfield Road, Downers Grove, IL, 60515
Open: 12/13
Factory of Fear
5027 4th Avenue, Moline, IL, 61265
Open: 12/13 & 12/14
Insanity Haunted House
3940 IL-251, Peru, IL, 61354
Open: 12/14
Iowa
The Slaughterhouse Haunted Attraction
97 Indiana Avenue, Des Moines, IA, 50314
Open: Dec. 7th
Georgia
Folklore Haunted House Presents: Christmas Nightmare
5389 N. Main St. Acworth, GA
Open: 12/13 & 12/14
Containment Haunted House
1320 Blairs Bridge Road, Lithia Springs, GA, 30122
Open: 12/20, 12/21, 12/27 & 12/28

13 Stories Haunted House
320 Temple Avenue, Newnan, GA, 30263
Open: 12/14, 12/21 & 12/28
Netherworld Haunted House
2076 West Park Place Blvd, Stone Mountain, GA, 30087
Open: 12/14 – 12/28
Nightmares Gate
3931 Longview Drive, Douglasville, GA, 30135
Open: 12/13, 12/14, 12/20, 12/21
Paranoia Haunted House
2075 Marietta Hwy, Canton, GA
Open: 12/7 & 12/14
Indiana
Fear Fair Presents: Creepy Christmas
800 A Ave. Seymour, IN
812-567-3327

Haunted Angelus House Presents: A Haunted Christmas
8829 E. Washington Ave. Indianapolis, IN
317-500-4746
Open: 12/13 & 12/14
House of Trepidation Presents: Belle's Family Christmas Haunt
1929 S Meridian St. Indianapolis, IN
317-912-3845
Open: 12/13 & 12/14
Haunted Hills Hospital
4700 Central Avenue, Lake Station, IN, 46405
Open: 12/7 & 12/14
Newburgh Civitan Zombie Farm
5466 South Vann Road, Newburgh, IN, 47630
Open: 12/13 & 12/14
Malice Manor
640 Providence Way, Clarksville, IN, 47129
Open: 12/6 & 12/7
Nightmare on Edgewood
1927 S Meridian Street, Indianapolis, IN, 46225
Open: 12/13 & 12/14
Scarevania Haunted House
520 E Main Street, Muncie, IN, 47305
Open: December 14th, 2019
Stillwell Manor
1704 East 60th Street, Anderson, IN, 46013
Open: 12/7, 12/13, 12/14
Kentucky

The Haunted Hotel Presents: Krampus: A Christmas Nightmare
3000 S 4th St. Louisville, KY
502-634-4478
Open: 12/13 & 12/14
Black Orchard Haunted House
704 Kentucky Street, Shelbyville, KY, 40065
Open: 12/7
Louisiana
New Orleans Nightmare Presents: Krampus: A Haunted Christmas | Chapter 2: Jack Frost
319 Butterworth St. Jefferson, LA
504-224-9140
Open: 12/13 & 12/14
Missouri
Shattered Screams Haunt
3600 Country Club Drive, Jefferson City, MO, 65101
Open: December 13th
The Darkness
1525 South 8th Street, St Louis, MO, 63104
Open: Dec. 13th & 14th
Michigan
Rotten Manor
13245 Dixie Hwy, Holly, MI, 48442
Open: December 6, 7, 13, 14
Factory of the Dead
906 Lapeer Ave, Saginaw, MI, 48607
Open: Dec 13, 14, 20, 21
Exit 13 Haunted House
6069 N Saginaw Road, Mount Morris, MI, 48458
Open: Dec. 13 & 14
Minnesota
The Haunted Basement
1595 MN-36, Roseville, MN, 55113
Open: Dec. 6th, 7th, 13th & 14th
Maryland
Bennetts Curse Haunted House
7875A Eastpoint Mall, Baltimore, MD, 21224
Open: Dec. 6th & 7th
New Hampshire
Fright Kingdom Presents: The Fright Before Christmas
12 Simon St. Nashua, NH
603-809-1173
Open: 12/13, 12/14 & 12/15
New Jersey
Brighton Asylum Presents: Santa's Slay
2 Brighton Ave. Passaic, NJ
201-716-2827
Open: 12/14 & 12/21
13th Hour Haunted House
105 W Dewey Ave, Wharton, NJ, 07885
Open: 12/1
New York
Bayville Adventure Park Presents: Bayville Winter Wonderland
8 Bayville Ave. Bayville, NY
516-62-GHOST
Open: 11/23-1/1
Terror Field
7 Columbia Street, Clyde, NY, 14433
Open: 12/13 & 12/14
North Carolina
Hallowed Grounds Mill Presents: A Relentless Christmas
510 Highway 70 East, Hildebran, NC
828-201-9377
Open: 12/6
The Haunted Forest at Panic Point
2808 Cedar Creek Road, Youngsville, NC, 27596
Open: December 13
Panic Attack Haunted Attraction
3245 Pine Level Church Road, Nakina, NC, 28455
Open: Dec 6th, 7th, 13th, 14th
Hacker House
162 Hacker House Trl, Pilot Mountain, NC, 27041
Open: Dec 6th & 7th
Hillside Horror
2122 Hoots Road, Roaring River, NC, 28669
Open: Dec 13th & 14th
Ohio
13th Floor Haunted House Presents: Krampus: A Haunted Christmas
2605 Northland Plaza Dr. Columbus, OH
(614) 344-4484
Open: 12/13 & 12/14

Factory of Terror Presents: A Creepy Christmas: Krampus Returns
4125 Mahoning Rd. NE, Canton, OH
(330) 455-3327
Open: 12/7, 12/13 & 12/14

Wells Township Haunted House Presents: Lights Out!
101 Market St. Brilliant, OH
304-723-6408
Open: 12/13
Mohican Haunted Schoolhouse
155 W 3rd Street, Perrysville, OH, 44864
Open: 12/6 & 12/7

The Dent Schoolhouse
5963 Harrison Ave, Cincinnati, OH, 45248
Open: 12/6, 12/7, 12/13, 12/14
Pennsylvania
Kim's Krypt Presents: Kim's Kryptmas: A Twisted Christmas
5932 Colonial Valley Rd. Spring Grove, PA
717-225-4811
Open: 12/13, 12/14 & 12/15
Castle Blood
100 Schoonmaker Ave, Monessen, PA, 15062
Open: 12/13 & 12/14

Demon House
417 Coyle Curtain Road, Monongahela, PA, 15063
Open: 12/13 & 12/14
Field of Screams PA
191 College Ave, Mountville, PA, 17554
Open: 12/13 & 12/14
Haunted Hills Estate
236 Rolling Hills Estate Road, Uniontown, PA, 15401
Open: Dec. 6, 7, 13, 14, 20, 21
Spook Haven Haunted House
100 Danis Street, Mill Hall, PA, 17751
Open: 12/13 & 12/14
Tennessee
Nashville Nightmare Presents: Krampus: A Haunted Christmas | Chapter 3: Holiday Spirits
1016 Madison Square, Madison, TN
615-933-5377
Open: 12/7, 12/13 & 12/14
ACE Haunted Attractions
2501 Cecelia Avenue, Maryville, TN, 37804
Open: 12/20 & 12/21
Dread Hollow
321 Browns Ferry Road, Chattanooga, TN, 37419
Open: 12/28
Frightmare Manor
7588 W Andrew Johnson Hwy, Talbott, TN, 37877
Open: 12/13 & 12/14

Nashville Nightmare
1016 Madison Square, Nashville, TN, 37115
Open: 12/7, 12/13, 12/14
Outbreak on Main
250 South Main Street, Oneida, TN, 37841
Open: 12/13
The Funhouse Haunted Attraction
1065 Walnut Grove Road, Bluff City, TN, 37618
Open: 12/13 – 12/21
Texas
13th Floor Houston Presents: Krampus: A Haunted Christmas
7075 Farm to Market 1960 Rd W. Houston, TX
(281) 816-5054
Open: 12/13 & 12/14
House of Torment Austin Presents: Krampus: A Haunted Christmas | Chapter 3: Holiday Spirits
2632 Ridgepoint Dr. Austin, TX
512-407-9449
Open:
J & F House of Terror Presents: Christmas Haunt
1855 Wall Street Suite B, Garland, TX
972-278-7692
Open: 12/6, 12/7, 12/8, 12/12, 12/13, 12/14 & 12/15
13 Vultures Haunted Estate
3480 I-20 W, Baird, TX, 79504
Open: Dec. 6th & 7th
Creepy Hollow Haunted House
12872 Valley Vista Drive, Rosharon, TX, 77583
Open: Dec 13 & 14
Moxley Manor Haunted House
510 Harwood Road, Bedford, TX, 76021
Open: Dec. 13th & 14th
Scream Hollow Wicked Halloween Park
149 Split Rail, Smithville, TX, 78957
Open: Dec. 6th, 7th, 13th, 14th, 20th, & 21st
Dark Hour Haunted House
701 Taylor Drive, Plano, TX, 75074
Open: Dec 13, 14, 27, 28
3 HaunTs
333 Our Road, Shepherd, TX, 77371
Open: Dec. 20th, 21st, 27th & 28th
Utah
Dead City Haunted House
5425 S Vine Street, Murray, UT, 84107
Open: 12/13
Virginia
Frightmare
1905 South Military Hwy, Chesapeake, VA, 23320
Open: December 6, 2019 – End Date: April 11, 2020
RED VEIN Haunted House
13580 Ashland Road, Ashland, VA, 23005
Open: Dec 13th, 14th
West Virginia
Twelvepole Manor
335 Hall Street, Wayne, WV, 25570
Open: December 6, 7, 13, 14
Infernum in Terra Hell on Earth
4302 Jacob Street, Wheeling, WV, 26003
Open: Dec 13th & 14th
Fright Nights at The Resort at Glade Springs
255 Resort Drive, Daniels, WV, 25832
Open: 12/13
Fear On The Farm WV
8325 Winfield Road, Winfield, WV, 25213
Open: 12/13
Washington
Nile Nightmares Presents: Halloween in December
6601 244th Street SW, Mountlake Terrace, WA
866-666-1031
Open: 12/6, 12/7, 12/13 & 12/14
Cinema of Horrors Haunted House
1301 Grade Street, Kelso, WA, 98626
Open: Dec 13th & 14th