New Disney After-Hours Halloween Party to Hit California: Oogie Boogie Bash Brings More Fright and Villains to the Mix!
August 20, 2019 By Wendy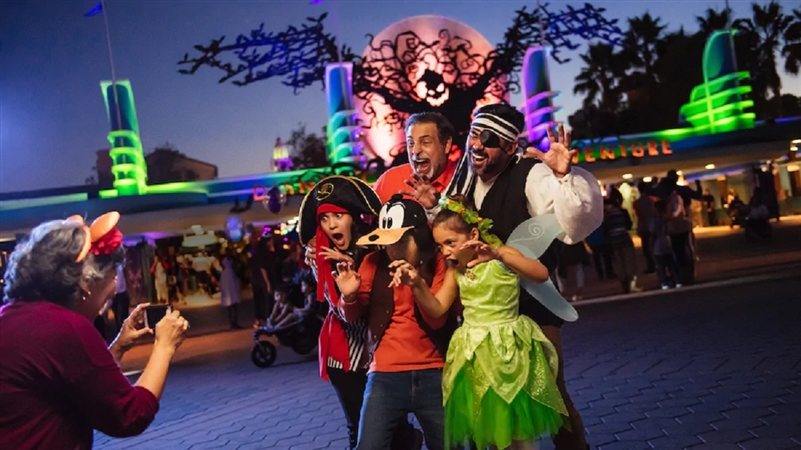 Disneyland Resort debuts the new Oogie Boogie Bash - A Disney Halloween Party at Disney California Adventure Park in Anaheim, Calif.
Photo by:
Disneyland Resort.
Make plans this Halloween and Haunt season to stop by Disneyland in California. A new Halloween event is coming to town and it's filled with fright and villains. The new Oogie Boogie Bash – A Disney Halloween Party will coincide with Disneyland Resort's Halloween season from Sept. 6 through Oct. 31, 2019.
The new Oogie Boogie Bash – A Disney Halloween Party is a special after-hours party event that runs on select nights during the Halloween season at Disney's California Adventure. From Sept. 17 to Oct. 31, 2019, expect villains, lots of villains, as event highlights include:
"Villainous!" – Discover that there's a little villain in all of us as an all-new World of Color show on Paradise Bay displays water fountains electrified with lights, lasers, projections and special effects;
Redwood Creek Challenge Trail – Enter the enchanting and dreamlike world where scenes unfold, and stories are told in the hauntingly darkest night in a maze-like setting.
Immersive Treat Trails – go trick-or-treating on a wicked treat trail;
DescenDance – inspired by "Descendants" the movie, the greatest dance crew from the Isle of the Lost leads everyone to a night of dancing to songs from the movie;
"Frightfully Fun Parade" – What troubles will the Disney villains stir up from the dark? Catch the eerie Headless Horseman of Sleepy Hollow lead the parade while other Disney characters take on the streets of Disney California Adventure Park. The parade also has a new closing character this year – the Cheshire Cat;
Mickey's Trick and Treat show – for a Halloween party complete with dancing, not-so-frightening scary tales, candy and the opportunity to join Mickey Mouse and his pals, this show is perfect for the young guests; and
Character encounters – get ready for greetings, photos and autographs with Disney's favorite characters, including villains!
Tickets are on sale now for the new Oogie Boogie Bash – A Disney Halloween Party. 2019 dates for the special after-hours party event includes: Sept. 17, Sept. 19, Sept. 22, Sept. 24, Sept. 26, Sept. 29, Oct. 1, Oct. 3, Oct. 6, Oct. 8, Oct. 10, Oct. 13, Oct. 15, Oct. 17, Oct. 20, Oct. 22, Oct. 24, Oct. 27, Oct. 29 and Oct. 31.
The Oogie Boogie Bash – A Disney Halloween Party is a separate-ticket party that allows you access to Disney California Adventure Park up to 3 hours (4 hours on Sunday's and on Oct. 29 and 31) before the party begins at 6 p.m. The Oogie Boogie Bash party event is a five-hour Halloween event lasting until 11 p.m. Book early as tickets do sell out.
While still a family-friendly event, the Oogie Boogie Bash party event is expected to offer more to tweens, teens, and adults than the previous Mickey's Halloween Party that's been traditionally held at Disneyland Park. Word is the new Oogie Boogie Bash takes the place of Mickey's Halloween Party and its going to be truly an event to guests of "all ages" this Halloween.
Will you join in the villainous Halloween party known as Oogie Boogie Bash – A Disney Halloween Party this Haunt Season? Let us know in the comments below.
Photo Gallery
Source: Disneyland Resort.