Grim and Spooktacular Sports Take Center Court at The Children's Museum - Come Prepared to Run, Jump and Dash for Your Life
August 5, 2019 By Chris B.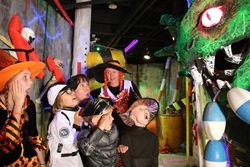 The nation's oldest haunted house features spooktacular scares in friendly and frightening ways.
Photo by:
prweb.com
If you are ready for a spine-chilling scare, take a chilling court-side seat in Grim-nasium! Grab a broiled snout to chomp on while watching the creepy competition between The Naptown Nightmares and The Circle City Screamers at the oldest continually-operated Haunted House in the nation.
Lace up your sneakers and get ready to run for your life in the monster-filled Grim-nasium, The Children's Museum Guild's 55th Annual Haunted House, presented by Old National Bank. Those who drop the ball risk missing out on this ghoulish game and spooktacular haunted house, open October 11 - 31, 2019 (closed Mondays).
"It will be such a thrill to finally open the doors to the 55th Annual Haunted House at our beloved The Children's Museum of Indianapolis," said Katherine Steck Bryant, Haunted House co-chair. "100 volunteers have been working for nearly a year to bring Grim-nasium to life, and look forward to kicking off this faBOO tradition in October." The other co-chair, Allison Lechleiter added, "Grim-nasium will be a fun, interactive family experience for people of all ages. The Guild prides itself in creating a unique theme and experience each year. This year, we invite you to Grim-nasium, a crazy spooky gym filled with workouts, competitions, and all things grim. Game on!"
The Grim-nasium is sure to be a slam dunk, leaving even the strongest of souls a little shaky with 17 faBOOlous rooms to explore. Don't worry, IPL offers Lights-On Hours for those who scare easily and is similar to a family-friendly trick-or-treat experience and AAA offers Frightening Hours for those bold enough to dodge demons in the dark.
Haunted House tickets are $8 for all ages at The Children's Museum Box Office or online at http://www.childrensmuseum.org/hauntedhouse. Discount tickets may be purchased at Old National Bank central Indiana locations. In addition to haunted Halloween fun, the museum hosts an array of events throughout October for the entire family to enjoy:
The First-Annual Sports Spooktacular (October 13, 2019, 6:30pm)
You won't want to miss the inaugural Sports Spooktacular! This sporty new event for kids ages 8-14 and their grown-ups is sure to be a hairy home-run. It features dinner, music, entertainment, games, giveaways, unlimited admission to the Grim-nasium Haunted House during AAA's Frightening Hours, and access to the new Riley Children's Health Sports Legends Experience. Bring a team of friends and BOO-gie the night away at this spooky kids' party.
Black Hat Dash (October 27, 2019, 9:00 am)
Run alongside your family just like the monsters in the Grim-nasium in the Black Hat Dash, Indy's frightfully fun run and weirdly wonderful walk. This year's experience includes Trick-or-Treating and entertainment at the Riley Children's Health Sports Legends Experience.
Registration price includes a t-shirt and a ticket to Grim-nasium, which can be used anytime during the run of the Haunted House. Children under 5 are admitted for free, but must be registered.
Feast with the Witches (Various Dates)
Catch your breath after running from the Grim-nasium monsters and enjoy a breakfast or lunch BOO-fet with the friendliest of witches. These events include a delicious meal, Halloween entertainment featuring Ruditoonz, activities, a goodie bag, and a ticket to Grim-nasium. Feast tickets are $20 per person and are available for 4 dates throughout October. Children under 2 get in for free.
The Haunted House is the most lucrative fundraiser of The Children's Museum Guild, raising money to support a wide variety of programs and free or reduced admission opportunities at The Children's Museum of Indianapolis.
About The Children's Museum of Indianapolis
The Children's Museum of Indianapolis is a nonprofit institution committed to creating extraordinary family learning experiences across the arts, sciences, and humanities that have the power to transform the lives of children and families. For more information about the tourist attraction and museum, please visit http://www.childrensmuseum.org.