Haunted Hills Estate Brings Holiday Chills To Thrill Seekers in Western Pennsylvania
November 29, 2018 By Haunt News & Press Releases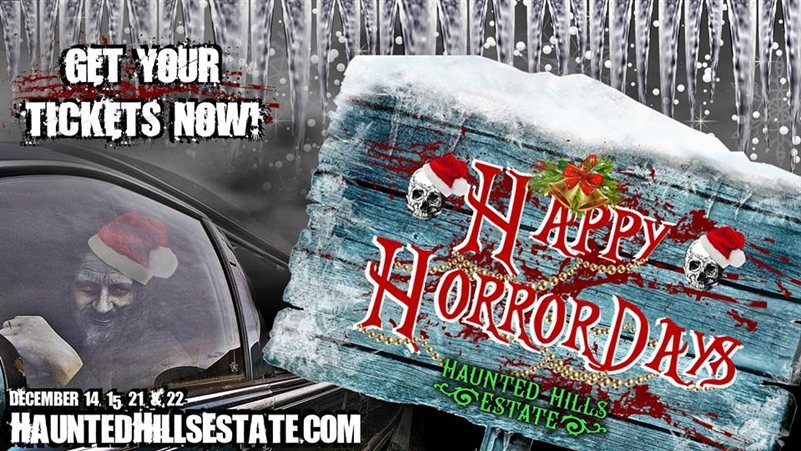 Uniontown, PA - November 29th, 2018 - A local Haunted House is bringing a different type of Christmas event to Western PA, and Santa Claus will be there - but you probably won't want to bring the kids to this one.
Haunted Hills Estate in Uniontown will be opening "Happy Horror Days", a 2 - floor Haunted Christmas Experience, for 2 weekends in December. This promises to be a new type of experience for the area, complete with Dangerous Elves, a Krampus, Dark Christmas Creatures, and of course, a run in with the man (soaked) in red himself.
"For over 15 years, Haunted Hills Estate has bought new forms of fear to Western PA," says Aidan Finnegan, the event's Marketing Director. "We decided to bring yet another unique experience to the area by mixing Holiday Traditions with our own Terrifying Thrills."
The event features a two - floor maze of scenes and scenarios, that places visitors in the middle of their own Christmas Carol - gone horribly wrong. Detailed sets, strategic lighting, chilling sound effects and terrifying costumes further set the stage before live actors strike for the kill.
The story line follows a local urban legend surrounding a Shopping Mall Santa who disappeared in the late 1950's after bodies were found in his home. Now, he's moved onto the Estate's property, and constructed his own nightmarish re-imagining of the North Pole.
"Think of all the memories you had as a child around this time of year. Hot Cocoa, Christmas Lights, Snowmen, Santa coming down the chimney. We've turned Christmas Nostalgia completely on it's head. Some stuff is a little sick, but there's definitely a Tongue - In - Cheek element, and it's all part of the fun," says Finnegan.
Happy HorrorDays will be open December 14th, 15th, 21st, and 22nd. Admission to the event is $20 per person, and tickets can be purchased either at the event or via their website, HauntedHillsEstate.com.