"Zombies" Set to Descend on Upstate New York
August 21, 2019 By Chris B.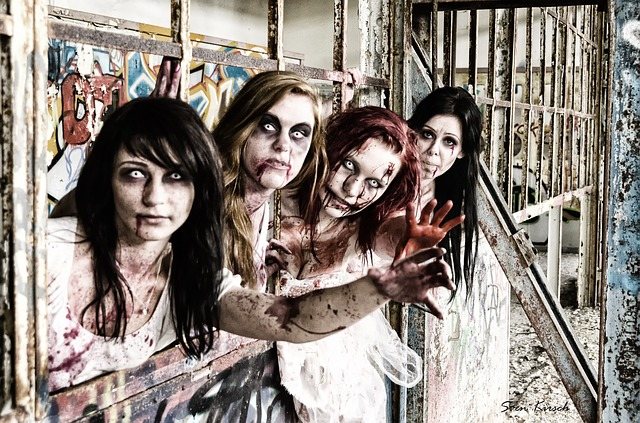 Impending Village Invasion Puts an Undead Spin on the Traditional Pub Crawl.
Photo by:
SvenKirsch
The quaint, picturesque village of Saugerties, nestled in the hills of New York's Ulster County, will undergo a makeover of ghoulish proportions on the evening of Saturday, October 19, when hordes of the living dead will take over the streets in an all-out carnivorous coup. Only unlike in the movies, these zombies are far more likely to be consuming beer than brains.
"We're taking the concept of the pub crawl and adding a horror movie flavor," says event organizer Cruella Moxham, better known to her legions of followers as Captain Cruella. "Everyone is invited to come in their most convincing zombie makeup and attire. We've got the official go-ahead from the Village Board, and it looks like we might have to approach them about closing the streets to traffic. I'm expecting quite the turnout."
At this point, more than 200 would-be flesh-eaters are anticipated come October 19, with the frightful festivities officially kicking off at 8:00 pm along Main and Partition Streets. Local community businesses will be playing a large role in the night's goings-on, with many of them opting to remain open late to join in the fun.
Dave's Coffee House will play host to Kingston-based funk/rock band Voodelic; at the Inquiring Minds bookstore, author Will Nixon is scheduled to read at 9 pm from his zombie poetry collection, Love in the City of Grudges; the Partition Street Wine Shop will be doling out free Bloody Mary samples; Dutch Ale House, Mirabella and Main Street restaurants will be serving up aptly named drinks specials: A special appearance by the Ulster Biorecovery crime scene cleaners: Lucky Chocolates plans to offer several tailor-made treats; Pistol Whip Boutique giving discounts to the crawlers; Express Yourself Tattooing and Marky Mark's Tattoos will offer crawlers in attendance the opportunity to permanently commemorate the night with a bit of body art, zombie-related or otherwise.
In addition, a contest will be held in which participants can compete in several cadaverous categories, including Best Zombie Pin-Up, Best Celebrity Zombie Look-Alike and Best Executed Zombie. A veritable slew of terrifying sponsors have stepped in to offer prizes to the winners, including horror movie T-shirts, zombie crafts, unique beauty products and lots more. And to top it all off, the lovely ladies of Hudson Valley Horrors Roller Derby will be on hand to unleash hell on wheels along with many other special guests from the Hudson Valley that will be on hand to create a horrifically fun time.
"This is all about having fun, and hopefully helping local businesses to attract new customers along the way," says Captain Cruella. "I've spent a lot of time over the past few weeks talking with shop owners, letting them know what I am planning and finding out if they'd be interested in taking part. They've given me so much support, and I can honestly say that the Village Invasion would not be happening without them. I'm one person organizing this entire thing. I'm blown away with how much support I have had and how social media has really catapulted this event and me into the spot light. I am relentless in my pursuit to make this as much fun as I can ensuring years of subsequent Village Invasion to come."
Over the course of the past decade, zombies have infiltrated pop culture as never before, with movies such as Resident Evil, 28 Days Later and Shaun of the Dead gaining cult followings; just two weeks after the Village Invasion, AMC plans to debut its Walking Dead TV series—further proof that the zombie has hit the mainstream. Part of the phenomenon has been the rise of a colorful and devoted subculture of zombie-lovers that has helped popularize public zombie walks worldwide.
"They actually started a few years back, in the U.K., and now they happen year-round all over the U.S. as well" says Cruella. "There are just a few basic rules and guidelines that have to be followed when putting an event like this together, like planning the route and keeping track of the numbers of people attending, in addition to being sensible and of course, having a good time."