Canobie Lake Park's Screeemfest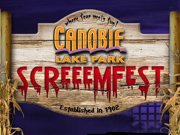 Canobie Lake Park's Screeemfest
85 North Policy Street
Salem, NH
Click To Call
603-893-3506
Review Us




Canobie Lake Park Screeemfest is where fear meets fun for everyone!

Haunted Houses:

Carnivus:
The carnival came to town… and never left. Neither did anyone who ever visited this sinister circus. There was something "off" about Carnivus from the day they set up in the far reaches of a desolate field. The manager was a clown, as were all the employees – in the very literal sense, with garish makeup that seemed to be permanent. The incessant carnie music was haunting, the freak shows all too real, the evil laughter echoing into the night. And visitors to Carnivus? The clowns thought they were delicious. Step right up, folks. It's showtime!

Virus....Quarantine:
no one is immune…It spread rapidly, like a virulent and voracious firestorm, infecting all, mutating within and without, rendering human into inhuman. And here they all are, poor souls in quarantine. At least that was the plan. Control. Contain. Because all hopes for a cure had been abandoned long ago. Trouble is, even those tasked with the "containment" have succumbed. Maybe you can fare better. Enjoy your stay.

Canobie Lake Hotel:
If these walls could talk…they would scream. The Canobie Lake Hotel sat adjacent to Canobie Lake Park in the early 1900s and was a popular destination for those seeking a local escape. The hotel was eventually abandoned after stories began circulating about several guests who had visited the hotel were never seen nor heard from again. What went on within the walls of this historic hotel? Who is the woman that boaters have seen peering out a top-floor window? Are the eerie sounds heard nearly each night the pleading voices of the missing, or just the wind howling across the lake?

Why not see for yourself? The Canobie Lake Hotel is now open. And there are plenty of vacancies.

Black Hollow Cove:
Dead pirates lair! Centuries ago, a crew of the most blood-thirsty bucanneers who had ever set sail would ruthlessly board merchant and pleasure crafts alike. They took possession of the goods and riches… and never left anyone alive to tell the tale. This particular band of privateers came ashore and traveled far inland to hide their ill-gotten bounty… along with a few of the poor souls unfortunate enough to have been taken prisoner for their amusement. This pirates' lair has since been exposed.

Explore Black Hollow Cove tonight and see what you can find. After all, these pirates are long dead. Aren't they?

The Village:
Take a stroll through the village. You may never leave…Billy and Bobby Hollander went to explore an area near a mine in Salem, New Hampshire, and never came back. From then on, the Policy Mining Village was dealt a string of bad luck. Horrific mining accidents and a summer drought all contributed to the eventual closing of the mine. After the closing, many of the Village's inhabitants were never seen or heard of again.

Each evening, the sounds, the visions, even the smells of history and the memory of those who have perished in the village – led by the spirits of the Hollander boys-arise to show themselves. The Villagers are near. Do you hear them?

Screeemfest Games:

Enjoy your favorite canobie midway & arcade games during Screeemfest. Plus…

Blacklight Monster - Paintball, the Screeemfest Way! Splat!

The Autopsy Table - The Real Operation Game! Do you have certain skills?

The Last Ride - A simulated ride to the grave… inside a coffin!



September 2017
Su
M
Tu
W
Th
F
Sa
1
2
3
4
5
6
7
8
9
10
11
12
13
14
15
16
17
18
19
20
21
22
23
24
25
26
27
28
29
30
October 2017
Su
M
Tu
W
Th
F
Sa
1
2
3
4
5
6
7
8
9
10
11
12
13
14
15
16
17
18
19
20
21
22
23
24
25
26
27
28
29
30
31
November 2017
Su
M
Tu
W
Th
F
Sa
1
2
3
4
5
6
7
8
9
10
11
12
13
14
15
16
17
18
19
20
21
22
23
24
25
26
27
28
29
30
Latest Reviews
There are no reviews for this listing yet!