Necropolis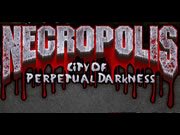 Necropolis
7130 Western Select Dr
Indianapolis, IN
Click To Call
317-353-1987
Review Us



Necropolis Underground Haunted Attraction - One of the largest Indoor Haunted Attractions in the country covering nearly 50k sqft. Including Escape Rooms, Axe Throwing, Tarot reading, VR Horror Ride and more.

Necropolis: Nightmare House
Every old, decrepit house has a horror story. A tall tale told by children to frighten their peers on the playground. Those stories come to life in Necropolis, where The Nightmare House feeds off of human energy and selects victims to stay within its walls forever. Once a beautiful mansion, the house fell into disrepair and was overtaken by the malicious spirits that inhabit Necropolis. They say home is where the heart is, but what about your soul? Once you enter The Nightmare House, you are one with the foundation of the home. The electricity in your brain pulses in the flickering hall lights. The blood in your veins flows through the rusted pipes in the walls. You cannot leave what you have been made a part of. Even in death, there is no escape. Will your soul be chosen to haunt the home's halls and cemetery grounds forever? Step inside if you dare to find out.

Necropolis: Cemetery of the Damned
When you die in Necropolis, there is no resting in peace. Your soul, trapped between life and death, remains listless for all time. This can be attributed to the forces of voodoo and Baron Samedi, a Loa of the Dead. Known as the Devil of the Crossroads, his evil spirit keeps the souls of the dead in an eternal state of limbo. These souls run rampant in the Cemetery of the Damned. Gnarled fingers, caked in dirt, reach up from the ground to grasp at the ankles of anyone who treads over their graves. Cracked tombstones spell out the names of those long forgotten by history. Vultures peer down from the dead treetops, eager for their next meal. Baron Samedi is always watching from behind the veil, as his voodoo spirits enact his torturous plans upon the innocent souls who foolishly entered his realm. There is no visiting the Cemetery; every step through its gates is a lifetime sentence.

Necropolis: Dead & Breakfast
A small inn sits at the end of a long cobblestone path. The building is worn down, as if its existed for centuries. The shutters rattle in the violent wind as cold rain bounces off the dirty windows. Despite its dingy exterior, it's at least a decent refuge from the nasty weather…isn't it? Welcome to The Dead & Breakfast. Once a pleasant inn, it changed forever when tragedy struck. An infamous murderer took the lives of nearly every guest and employee one fateful evening. The few employees who managed to escape went mad with survivors' guilt, and now seek to make others suffer the way they did. The innkeeper greets every guest with a crooked smile as he grips a knife under the check-in desk. The bellboy takes luggage that the unfortunate guests will never see again. Despite her best efforts, the maid just can't seem to rid the linens of those pesky blood stains. They truly hope that you enjoy your stay, as it just may last for the rest of your life.

Necropolis: The Bunker
A facility hidden from the public. An Area 51 offspring location. Chatter of DNA testing, splicing, and manipulation. The contents and inhibtants that are behind those doors are a mystery to everyone. They say screams and maddening sounds can be heard from the hills just outside the doors. What is happening inside THE BUNKER.
Some locations may have last minute updates due to changing circumstances. Please visit the
attraction's website
and/or social media before going to double-check that they are open.
September 2021
Su
M
Tu
W
Th
F
Sa
1
2
3
4
5
6
7
8
9
10
11
12
13
14
15
16
17
18
19
20
21
22
23
24
25
26
27
28
29
30
October 2021
Su
M
Tu
W
Th
F
Sa
1
2
3
4
5
6
7
8
9
10
11
12
13
14
15
16
17
18
19
20
21
22
23
24
25
26
27
28
29
30
31
November 2021
Su
M
Tu
W
Th
F
Sa
1
2
3
4
5
6
7
8
9
10
11
12
13
14
15
16
17
18
19
20
21
22
23
24
25
26
27
28
29
30
December 2021
Su
M
Tu
W
Th
F
Sa
1
2
3
4
5
6
7
8
9
10
11
12
13
14
15
16
17
18
19
20
21
22
23
24
25
26
27
28
29
30
31
Wanna Know Whats Really Scary
Latest Reviews
There are no reviews for this listing yet!