Hanna Haunted Acres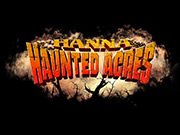 Hanna Haunted Acres
7323 E. Hanna Ave.
Indianapolis, IN
Click To Call
317-357-0881
Review Us




Get Ready Indianapolis! This October, Hanna Haunted Acres unleashes 6 Absolutely Spectacular Haunted Attractions. Learn what USA's GREATEST HAUNTS calls One of the Top Haunted Theme Parks in the Country. It's time to SCREAM!

OUR ATTRACTIONS:

HANNA HAUNTED HAYRIDE – OUR SIGNATURE ATTRACTION
The Haunted Hayride is a crown achievement at Hanna Haunted Acres. You will discover that it is more than just a hayride through the woods. It is a well paced roller coaster cruising through the dour woods with all possible nightmarish creatures imaginable lurking about. Forced to keep at the pace of the tractor pulling your wagon, you will have no choice but to endure the malicious beasts as they step into the light for your terror. Some will follow you, others will try to take you back to the woods with them, but rest assured, all of them will make sure you scream like a child.

UNDEAD
Enter Undead: a gateway to another dimension. It is an abyss so twisted and bleak, its name dare not be mentioned. But we can say the name of the house's host: Mr. Crystal. Pale, lanky, and lacking a… nose, eyes, and even ears, he's a sight to behold with an enormous mouth with razor sharp teeth. Mister Leather has been the keeper of the House of Undead for quite some time, so he may or may not be the only one in the house. If you see somebody, do not bother speaking up, because you will soon be among them, an inhabitant of the house and under Mister Crystal's care. So stop on in for a tour and understand why the undead are livelier than the living!

CANNIBAL CHAOS
Step into the red colored barn house and discover the real animalistic doings that go on inside. A grisly sight to behold, you will be gasping for air due to the foul stench of the leftover bodies and will be… clamoring to escape as you discover that the slaughterhouse boss is still lurking about. So get out or become next on the menu. You could be fed to the hogs, or hung from the ceiling. Either way, you better run out of this barn house. Because you are the only cattle the boss will see.

FREAKSHOW
Venture into Freakshow. A humiliated make-up artist at the carnival was fed up with people criticizing his work. He decided to turn the whole carnival upside down. He got his hands on some very awful chemicals. Not deadly, but morbid nonetheless. He locked everyone in and released the toxins into the atmosphere, turning everyone into wide-eyed laughing psychopaths. Their teeth and smiles grotesquely enlarged, their eyes bloodshot red and yellow, and their bodies amazingly slender and disgusting now. The former carnies now roam the abandoned carnival grounds. And we have opened it back up for you to see. Can you hear the maniacal laughter in the distance? It is closer than you think.

THE HORROR FIELDS
Something is lurking in the corn. While walking alongside Mr. Leather's cornfield to get to the market, you hear a blood-curdling scream, followed by a chainsaw ripping through flesh. You know… that the police would be more than an hour out, so you decide to venture into the thick stalks of corn, following the horrifying shrieks. But you are not alone, and Mr. Leather is hungry for flesh.

DESCENSION
Hanna is proud to open Descension, a haunt so pitch black, it'll make your skin crawl just to walk through. Navigate through the underground caves, now free to venture into, and realize that you are… not alone down there, and that there are no bodies left over. Whoever was left down there, is now a what instead of a who. Use your senses to guide your way through, but you never know how close something might be in front of you. Even with your eyes open.
Some locations may have last minute updates due to changing circumstances. Please visit the
attraction's website
and/or social media before going to double-check that they are open.
Latest Reviews
This was not even a bit scary, the costumes are nothing like what they post on the internet. Sad thing is, there is soooo much potential with the space they have. Most places the actors didn't even try to scare us. It's like they gave up. Maybe they were tired? What a rip off for sure. With the money they are bringing in, I hope they really make big changes next year. I also would like to add the step up going into the ambulance is hard to see with the strobe light and I fell hitting my chest hard enough on the top step knocking the wind out of me and screwed up my left knee on the bottom step I just spent 6 months therapy on. .

Posted Oct 2018