Miller's Nightmare Haunted Farm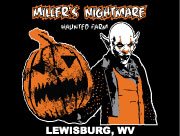 Miller's Nightmare Haunted Farm
1605 Carroll Hill Road
Lewisburg, WV
Click To Call
n/a
Review Us


A mysterious mansion has been discovered on the farm. It appears to be the source for the affliction affecting the corn field and nearby forest. Find out what lies within the walls of the Miller's Mysterious Manor and continue journey through the Infected Crop and Demented Forest.

Attractions:

The Night Wagon:
As darkness falls, take a step onto a mysterious, transformed hay wagon. Ride the Night Wagon through the darkness of night along a backwoods, West Virginia road. Only the Night Wagon can get you the infected crop.

Miller Manor:
Newly discovered on the farm, a mysterious, house like structure with dark hallways and many oddities within it's guts. This appears to be the source of the madness.

The Infected Crop:
The doors open, and you are now tredging your way to the entrance of a corn field tainted with some unknown variant. Some say the site used to be used for chemical testing. Others believe it is a sacred Indian burial ground. The inhabitants are known to be crazy, ghostly, possessed, or even dead.

The Demented Forest:
If you make it out of the corn, be prepared to venture through the dimly lit paths of the abysmal darkness of these woods. Fear lies within. You must face your fears to return back to reality. Catch the night ride to return back.
Latest Reviews
There are no reviews for this listing yet!