Moaning Acres Home Haunt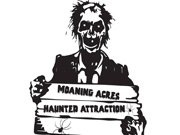 Moaning Acres Home Haunt
917 S 100 W
Mona, UT
Click To Call
n/a
Review Us

Moaning Acres is a home haunt located in Mona, Utah. We have been scaring people for the last 8 years. Each year brings a new theme and new props. We make most of our props and have started sculpting masks for our monsters this year. We are free to everyone and opened only on Halloween night.

Brave trick or treaters who make it all the way to the door are rewarded with candy bars. I hope one day to open my own professional haunt, but in the mean time we continue to hone our craft of scaring the crap out of people.
Moaning Acres 2015 Walk Up
Latest Reviews
There are no reviews for this listing yet!