Perdition Home's Maim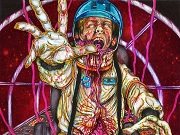 Perdition Home's Maim
5181 Manor View Drive
Yorba Linda, CA
Click To Call
714-768-9168
Review Us

Welcome to PERDITION HOME, the abode of timeless suffering and affliction! Soon you too will join the thousands of dead which make up the very foundation of this horrible place.

You'll writhe in paralyzing terror and fear as you witness our iniquitous need to watch all things DIE. We are the face of every evil you have ever witnessed. Our blood lust is insatiable. We are PERDITION HOME, where nightmares are made FLESH!

Year-to-year, we're guaranteed to be the goriest and most disturbing local home haunt: just the way YOU like it! Walls coated in blood and gore, mangled human torsos hung up by rusty meat hooks like grotesque ornaments, marred limbs at every turn, and horrible masks which guise the deplorable faces of our minionsthese are all things to expect this year from the master of BLOODY exploitation, PERDITION HOME!
October 2016
Su
M
Tu
W
Th
F
Sa
1
2
3
4
5
6
7
8
9
10
11
12
13
14
15
16
17
18
19
20
21
22
23
24
25
26
27
28
29
30
31
Latest Reviews
There are no reviews for this listing yet!