Scarizona Scaregrounds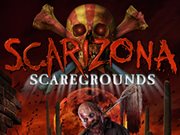 Scarizona Scaregrounds
1901 N. Alma School Road
Mesa, AZ
Click To Call
(480) 444-2590
Review Us



Get Ready Arizona! This October, Scarizona Scaregrounds unleashes 4 Absolutely Spectacular Haunted Attractions. Learn what USA's GREATEST HAUNTS calls One of the Top Haunted Theme Parks in the Country. It's time to SCREAM!

OUR 2018 ATTRACTIONS:

STARTLED DARKNESS
Navigate the darkened hallways crawling with your worst fears, as you reach your hand out to see where you are going. Be careful what you reach out for because it may reach back out at you! The dark is the scariest place to be, because once all the lights go out, and your eyes see nothing but black, you are no longer in control. Your mind is, and your mind will think of the worst that could be out there in front of you. And you will mostly find what you are afraid of as you are startled again and again through the bitter darkness.

EPIC FEAR
Enter a bizarre compound at Scarizona, one that defies all the rules of the outside world and one that seems to be alive in some way. Epic Fear will throw your deepest phobias at you in some way shape or form. Clowns laughing and honking their noses at you, outstretching their arms to grab you. Witches brewing up some dire spell to keep you here longer so they may cook and eat you next. Even zombified humans roam through this darkly lit wasteland of a maze, just looking for a meal to snack on in the form of your brains! A nightmare you cannot shake or deny, Epic Fear lives up to both the words in its glorious title.

SLAYER'S SLAUGHTER HOUSE
Welcome to the Slayer's Slaughter House. Where you will find a number of health code violations! Be careful not to slip in the gallons of blood and gore trickled all throughout the floors and carpet. Also, best not to touch any of the walls as they are lined with guts of former victims that fell by the hand of the Slayer himself. This is his domain, and you are trespassing, so get out fast and best do it quietly. Because the Slayer is not the only creature in the maze looking to paint the walls and rooms with you and your friends!

OPERATION ZOMBIE STORM
Welcome, recruits! As you know, the world has gone insane. There are mutant zombies roaming everywhere and they are definitely not the slow, easy-to-subdue kind. They are charging with the full intent to sink their incisors into you. You will receive a paintball gun with limited ammunition that we are trusting you to use wisely. The zombies are converging in Mesa, Arizona and we will be there to finish them off. You will be transported to the site at which they are convening in our 6 ton military trucks. The fate of the rest of the world depends on the very moment you set foot into the desert to fight.
Scarizona Scaregrounds Teaser 2018
Latest Reviews
There are no reviews for this listing yet!