H.H. Holmes Word Fair 1893, A Trip to Nowhere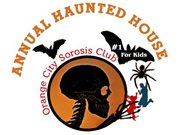 H.H. Holmes Word Fair 1893, A Trip to Nowhere
222 E University Ave
Orange City, FL
Click To Call
386-775-6814
Review Us

This year marks our 41st Annual Haunted House!!
H.H. Holmes World Fair 1893 - A Trip to Nowhere will open Thursday, Friday and Saturday nights from Oct 17th through Oct 26th starting at 7:00PM.
Each year our theme is changed to entice our audience and challenge their fears. Visitors are impressed with the creativity and special effects. Our scare factor is right up there with Halloween Horror Nights!!
This years tour will bring you face to face with one of America's first serial killers, H. H. Holmes. In 1893, Chicago was given the honor of hosting the World's Fair. The event attracted millions of people from all over the world. Holmes knew many visitors would search for lodging. His Hotel offered the best quality and security available for the time. Many out-of-town visitors would never be seen again.
Holmes took great pleasure in showing his guests to their very special rooms...the doors only opened from the outside! Throughout the hotel were there were trap doors, peepholes, stairways that led nowhere, and chutes that led into the basement. The basement was designed as a lab complete with a dissecting table, stretching rack, and crematory. The monies we raise go toward charitable contributions benefiting area children for scholarships to graduating High School Seniors, School Supplies, and our annual Summer Splash Bash, Easter and Christmas events.
October 2019
Su
M
Tu
W
Th
F
Sa
1
2
3
4
5
6
7
8
9
10
11
12
13
14
15
16
17
18
19
20
21
22
23
24
25
26
27
28
29
30
31
Latest Reviews
There are no reviews for this listing yet!