Dr. Kellistein's Haunted Mortuary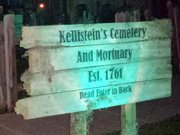 Dr. Kellistein's Haunted Mortuary
937 530 S
Spanish Fork, UT
Click To Call
n/a
Review Us

Dr. Kellistein's Haunted Mortuary - Take a journey with us through a place where life and death cross paths. We invite all who wish to visit to do so. But tread carefully. For the dead sleep lightly and are often found wandering about. I would warn you not to engage them, for they are lonely and desire your company...for all eternity.

Here's the story:
No one knows what happened to Dr. Kellistein and his family. One minute they were preparing for a service to honor a loved one passed, the next minute they too were dead. Some say it was an evil curse. Others say Dr. Kellistein went mad and killed himself and the others. But all agree that to tread on the grounds is to brush shoulders with death.

This haunted house is a private residence. Please respect the property and its homeowners. They are happy to take you on a tour of the cemetery, you simply need to knock at the door.

Haunt is on dusk to 10:00 nightly through Halloween with a scripted walk through tour on Halloween.

Latest Reviews
There are no reviews for this listing yet!