Haunts.com's 2017 Top Haunted Attractions for Oklahoma
August 19, 2018 By Haunts.com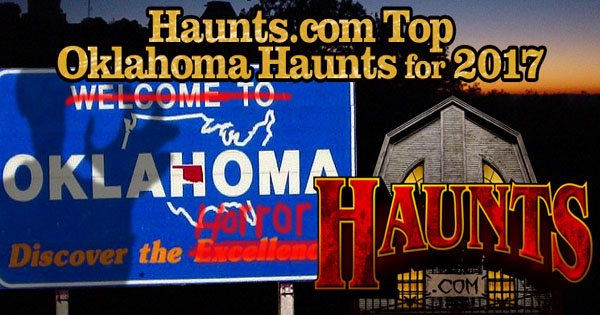 2017 Oklahoma Must See Attractions > 2017 Must See Attractions in the US
The Halloween Season here in Oklahoma is jam packed with tons of scares. From Haunted Houses and Spook Walks, to Zombie Hunts & Shootouts, Haunted Corn Mazes and Hayrides, there are endless options to choose from during the Haunting Season, no matter where in The Sooner State you reside. With an enormous amount of haunted attractions, it's not always an easy task to choose which ones you and your bravest friends will take on.
To make things a bit easier for Oklahoma haunt goers, Haunts.com has created a list of Must See Haunted Attractions throughout the state. These attractions have received a number of great reviews from customers who experienced the heart pounding fun for themselves, along with outstanding ratings for the 2017 Halloween Season. Check out the list below and start preparing for your 2018 haunting journey!
Top Pick for the 2017 Halloween Season: Guthrie Haunts Scaregrounds - Guthrie, OK

Located on Riverside Circle in Guthrie, this mega haunt features over 30,000 square feet of space, giving the crew more than enough room to make your heart race! Offering both indoor and outdoor scares, thrill seekers are in for the scares of their life at this attraction. Along with the scary-good fun, Guthrie Haunts Scaregrounds also features a giant movie screen and outdoor performers for visitors to enjoy throughout the Halloween Season. There are also food trucks on site for after you've worked up an appetite from all the screams!

Type: Haunted Houses | Read More | Visit Website | Share Review

---
While the below haunted attractions may not have been dubbed #1 for the 2017 Halloween Season, the race was tight, and all of our Top Haunts for 2018 are worth visiting this season if you can brave them all!
---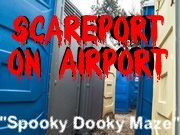 Scareport on Airport - Cache, OK

This not-for-profit haunted attraction is one like no other. Located in Cache, Scareport on Airport is the only porta potty maze... yes, you read that right! Visitors will wander through an abandoned airport, following Spooky Dooky Baby Clown who will be leading the way. The airport will be infested with the creepiest of creatures who have been waiting patiently all year for their next visitors... or shall we say victims?! After the airport, you'll walk through a pitch black underground tunnel that leads to an opened field that is filled with mysterious creatures circling you! Do you have what it takes?

Type: Haunted Houses, Haunted Trails, Spook Walks, Haunted Mazes | Read More | Visit Facebook Page | Share Review
---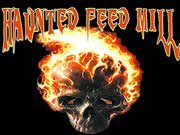 Haunted Feed Mill - Morris, OK
Those brave enough to visit this Morris haunted attraction will take on three unique haunts, including the Haunted Feed Mill, The Grindhouse, and The Lost Cabin. Each attraction is different than the next, but all are sure to get your blood flowing with their thrills and chills! Don't miss out on this intense experience this Halloween Season - that is, if you believe you're up for the challenge...

Type: Haunted Houses, Spook Walks, Haunted Trails | Read More | Visit Website | Share Review
---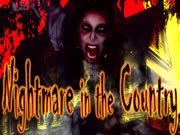 Nightmare in the Country - Woodward, OK

Woodward's Nightmare in the Country isn't for the faint of heart. Thrill seekers will enter the Haunted Barn, where mummies and monsters are lurking throughout. Then there's Grim Woods, where you'll come face to face with those who reside there. And the scares don't stop there... Zombie Infestation and Misers Mine are sure to make you scream! Will you and your friends be able to complete all the attractions that Nightmare in the Country has to offer? There's only one way to find out!

Type: Haunted Houses, Scream Parks | Read More | Visit Website | Share Review
Looking for More Scary Good Fun in Oklahoma?
Check Out Haunts.com's Oklahoma Haunted House & Attraction Guide Here!