Hwy 11 Halls of Horror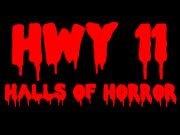 Hwy 11 Halls of Horror
1035 Monticello Hwy
Gray, GA
Click To Call
(478) 808-9073
Review Us


Many years ago, a young woman, Heidi Youngblood, fresh out of college, made her way to a small country school to start out on her lifelong dream of teaching. When she arrived, Heidi was full of optimism and ready to change the world, one child at a time. What she learned very quickly, was that her dreams wouldn't work out as she planned.

Upon arrival at the Highway 11 Public School, she was assigned her classroom and set out to make the most of her teaching assignment. The first teacher she met, Marianne Bates, quickly befriended her and the two became inseparable.

Heidi tried to make friends with other staff members, but was looked down upon, as she was the "new teacher." The current headmaster of the school, Mr. Jae Conner, tasked her with menial jobs that no other teacher wanted: she was the Teacher on Duty in the lunchroom every day. If a student got sick in a classroom or in the hallway, Miss Youngblood had to clean up after them. She also had to stay and keep detention every day.

The students were another issue. When she was being raised, teachers were automatically given a high degree of respect and admiration in her school. Family members told her stories, similar to her own experience, of the schools they attended. But not on Highway 11. The students were rude, even crass towards not only her, but the rest of the staff, as well. Heidi often thought a prank or two, every so often, was rather harmless, but these children were downright cruel. She also learned that discipline was extremely rare from most of the teachers, or even the parents of these hellions.

Slowly, the once powerful dream of being a guiding inspiration to her students began to ebb from her soul. She found herself waking every morning, dreading to go face the staff, and even worse the students of Highway 11 Public School.

One day she arrived at school to find the local Sheriff and his deputies talking with the staff. When she approached, Mrs. Bates ran to her and told her one of the high school teachers, Mr. Alvin Driggers, had been found out in the woods, dead. The Sheriff could find nothing to go on, and the school resumed classes a few days later, after the funeral.

Things didn't change much in the coming months, until Spring Break the following April. Upon return to the class, three children, the Rodgers kids, didn't show up. Repeated calls were made to their home, with no reply. Again, the Sheriff went out and the shocking news they had "disappeared", along with their parents, made it back to the school. The family was never heard from again.

At the end of the first school term, Heidi was looking to quit, and go look elsewhere for employment. Mrs. Bates convinced her to stay and give it one more year. She told Heidi, "Things would be different..." Heidi gave her a quizzical look, but reluctantly agreed.

The following year was no better, only stranger as more faculty members either disappeared, or were found dead of mysterious causes. And one other odd thing Heidi realized: there were no replacement teachers. She and Mrs. Bates were almost single-handedly running the school. On an extremely cold day in February, the school had no heat. Heidi looked for the Caretaker, but could not find him. She'd had enough. She marched to Mr. Conner's office, banging on the door, to get some answers. There was no answer. She entered his office and it had been ransacked, but no signs of the headmaster.

Heidi went to Mrs. Bates class, took her in the hall and explained what she had found. "This ends NOW. If no one else will, I'll take over!"

Moments later, the school intercom sparked to life: "Attention all students and remaining faculty... this is your NEW Headmistress, Helga Youngblood. I'm sick and tired of the way things have been run around here, but it's going to change TODAY!"

Mrs. Bates looked at the speaker in her room. "Helga"??? Who in the world is "Helga"? She went to the office to find Heidi sitting in the Head of School office. Heidi looked at her and said "Helga is my birth name. I'm Helga Heidi Youngblood. But the nice 'Heidi' is no more... Are you with me?" Mrs. Bates drew a sickening grin on her face and said "I've been waiting for this day for soooo long. Let's set these students straight."

Many stories made their way out of the Highway 11 Public School, more teachers and staff disappeared, as did students. All that we know for certain is that the School Board tried to close the school, but when enough of them "disappeared", too, Ms. Helga Youngblood was left to run the school as she saw fit.

What will you find in this old school? Rumors persist that students are put through tough lessons that never end. Some say the "missing" teachers are actually... well, we can't say what those rumors are. You'll just have to come and see for yourself, won't you.

But be warned: Headmistress Youngblood doesn't put up with shenanigans from ANYONE. And one more thing - DON'T BE LATE FOR CLASS!!!

Some locations may have last minute updates due to changing circumstances. Please visit the
attraction's website
and/or social media before going to double-check that they are open.
September 2023
Su
M
Tu
W
Th
F
Sa
1
2
3
4
5
6
7
8
9
10
11
12
13
14
15
16
17
18
19
20
21
22
23
24
25
26
27
28
29
30
October 2023
Su
M
Tu
W
Th
F
Sa
1
2
3
4
5
6
7
8
9
10
11
12
13
14
15
16
17
18
19
20
21
22
23
24
25
26
27
28
29
30
31
Latest Reviews
There are no reviews for this listing yet!