Niles Scream Park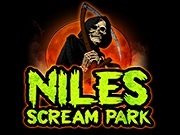 Niles Scream Park
855 Mayflower Rd
Niles, MI
Click To Call
269-687-3327
Review Us






The Place Everyone's Been Screaming About!
The Niles Scream Park is not just scary, it is considered by many to be one of the top haunted attractions in the country! Certainly one of the largest, Niles Scream Park rebuilds all seven attractions each year to provide you with completely new and unique shows. The professionally designed sets and ingenious scare-tactics led the Niles Scream Park to be recognized by the Haunted Attraction Magazine as one of the "Top 31 Must-See Haunted Attractions" nationwide for several years! This is no mere roadside attraction...come visit one of the country's premier haunted houses!

2020's line up includes:

Niles Haunted House - The largest and most popular of our attractions, it has been with us since the beginning! Before you even get to the massive house, you must make your way along a long, winding path with shaky bridges over dark ponds, foggy paths through trees and a completely blacked out guard building.

Once you get into the house, there are over 100 different paths through the attraction and it is impossible to see it all with less than seven trips. Each year the rooms, theme, sound effects and scares are changed to provide a fresh show. In 2020, you will experience several scary stories intended to be told in the dark!

After you've made it through the main House, you still have to survive the "back swamp" which also has many scares and monsters to frighten you.

The Basement
BREAKING NEWS! Police are stymied in the investigation of a missing reporter. The reporter, whose name is being withheld, is believed to have been investigating unusual activity connected to a 1920's ranch-style house. The home was constructed by the mysterious Flory family who all disappeared in 1952, leaving everything behind. The house was presumed to be abandoned but recent evidence has pointed to descendants of the family being alive! The investigation was re-opened when someone came forward claiming to have escaped from the Flory house basement. Sheriff Taylor has released a statement that there is not enough evidence for a search warrant at this time. The public is warned to keep off the premises until further notice!

The Cursed Crusade
For generations, the Smith family passed down legends of an artifact with the power to control time. It was protected by guardians both living and dead to keep it from those who desired fame and fortune. In 1922, a team of archaeologists led by Jimmy Smith followed the trail of clues to the previously undiscovered Tomb of Tutankhan, rumored to be the last location of the powerful object. The team was never heard from again. Earlier this year, Jimmy's grandson, Elliot Smith, set out on a quest to find his grandfather or what happened to him. But now he's gone missing too!

Field of Screams - Considered one of our most popular attractions, even a GPS won't help you find your way out of this series of outdoor mazes. Finding a way out means venturing through the forest, a massive cemetery and even an abandoned carnival. But once you're there, your problem becomes how to escape!

Dark Terror-tory Haunted Hayride - If the other attractions have you tired of running, you can get on board a tractor-drawn wagon and ride the Dark Terror-tory Haunted Hayride. The trail is approximately a mile long and filled with more than 30 sets that will take you on a journey through some of the scariest places on earth. A mix of humor and scares, the ride is certainly not a typical Fall hayride through the woods.

Mini Escape Rooms - The Niles Scream Park has brought the popular escape room concept to their midway. A new twist is "speed escape rooms." Fast paced and exciting, there will be several five-minute escape rooms open at the Park.

Hooded - Our most intense horror experience ever! Each patron is blindfolded and oh yeah, the actors can touch you! Adults 18 and older only. You must sign a waiver. If you bail out of the attraction, you got what you paid for–an experience so intense you couldn't handle it! No refunds. No chicken out passes. Good luck! This will be the final year for this attraction, so don't miss it!

While you're screaming, you'll be helping a good cause. The Park raises money for a wide variety of local charities. In 2019, it donated more than $116,000 to more than 65 not-for-profit organizations such as Boy Scout groups, church youth groups and booster groups for colleges and high schools.
Some locations may have last minute updates due to changing circumstances. Please visit the
attraction's website
and/or social media before going to double-check that they are open.
Field of Screams teaser (2016)
Latest Reviews
Great people,great time,great scares!

Posted Feb 2018