Niles Scream Park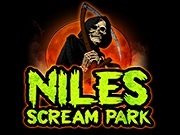 Niles Scream Park
855 Mayflower Rd
Niles, MI
Click To Call
269-687-3327
Review Us






The Place Everyone's Been Screaming About!
The Niles Scream Park is not just scary, it is considered by many to be one of the top haunted attractions in the country! Certainly one of the largest, Niles Scream Park rebuilds all five attractions each year to provide you with completely new and unique shows. The professionally designed sets and ingenious scare-tactics led the Niles Scream Park to be recognized by the Haunted Attraction Magazine as one of the "Top 31 Must-See Haunted Attractions" nationwide for several years! This is no mere roadside attraction...come visit one of the country's premier haunted houses!

2018's line up includes the iconic Niles Haunted House, The Doll Factory, Grimm's Funeral Services, the Field of Screams and the Dark Terror-tory Haunted Hayride.

Returning in 2018: escape rooms adventures! Forget an hour, though--you'll have five minutes to solve the puzzle or suffer the consequences.

Also returning is our intense Hooded attraction where our patrons go through blindfolded! Unlike all other attractions, you'll be signing a waiver to cover our butts and then all bets are off. You won't be able to see what's coming and we're not planning to tell you. Go ahead. We dare you to try this one!

While you're screaming, you'll be helping a good cause. The Park raises money for a wide variety of local charities. In 2017, it donated more than $111,000 to more than 65 not-for-profit organizations such as Boy and Girl Scout groups, church youth groups and booster groups for colleges and high schools.
September 2018
Su
M
Tu
W
Th
F
Sa
1
2
3
4
5
6
7
8
9
10
11
12
13
14
15
16
17
18
19
20
21
22
23
24
25
26
27
28
29
30
October 2018
Su
M
Tu
W
Th
F
Sa
1
2
3
4
5
6
7
8
9
10
11
12
13
14
15
16
17
18
19
20
21
22
23
24
25
26
27
28
29
30
31
November 2018
Su
M
Tu
W
Th
F
Sa
1
2
3
4
5
6
7
8
9
10
11
12
13
14
15
16
17
18
19
20
21
22
23
24
25
26
27
28
29
30
Field of Screams teaser (2016)
Latest Reviews
Great people,great time,great scares!

Posted Feb 2018