Fright Manor Haunted House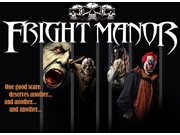 Fright Manor Haunted House
2909 South Meridian Street
Indianapolis, IN
Click To Call
317-883-7666
Review Us

If you love Halloween, Haunted Houses, and you love to be scared, don't miss Fright Manor. Always one of the top scary haunts in Indy.

Camp Apocalypse
In 1982 a government agency started doing experiments on military personnel. These seemed harmless at first but as they explored the possibility of an army that couldn't die…well let's just say they achieved their goal. Explore the barracks and try to survive!

CHAOS
Complete disorder and confusion. What could go wrong…goes Deadly wrong!
Explore your worst nightmares while experiencing CHAOS!

Psychomanthium
While you trudge thru the depths of Hell, we will conjure the dead. May the Lord have mercy on your soul. Trust your instincts and run for your life!
Latest Reviews
There are no reviews for this listing yet!