Hidden Hills Haunted House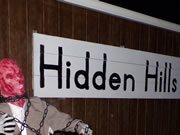 Hidden Hills Haunted House
S1441 Sobkowiak Lane
Stoddard, WI
Click To Call
608-483-3442
Review Us

If you look at a plat map of this property from 1852, you will find the name of Erlend Norgaard who came to America in 1840, with his family, from Norway. After saving enough money out east, he moved his family to the Midwest about a decade later. In fact, he bought about 700 acres of land on this ridgetop, where he and his family built a beautiful home and worked the land. What he did not know was that his property was coveted by a group of businessmen who were about to make a purchase of the property just before Erlend made his offer. Over the course of a few months, these businessmen, from the City of La Crosse, made their intentions known to Erlend. They told him that he ought to sell the property to them, but Erland refused. He told them that this property reminded him of his homeland back in Norway.

Frustrated with this response, these men bribed Erlend's neighbors to make life difficult for the Norgaard family. Local businesses wouldn't allow Erlend to shop at their stores. No one would buy his produce or products. Even the local children got involved by playing all manner of pranks on Erlend and his family. Most were innocent enough, like locking Erlend's children in the outhouse, or throwing tomatoes at the hanging laundry, but soon these events escalated into something altogether wicked.

One fateful day in October, when Erlend was visiting a friend in Westby, making arrangements to sell some lumber through him, some of these neighbor children came to visit the Norgaard farm. Erlend's wife and children would oftentimes hide in the home and pretend that no one was there until the hazing was complete and the teenagers had left the property. But on this particularly tragic day, someone, somehow started their home on fire and Erlend's family was unable to reach safety before the flames and smoke ended their lives. When Erlend arrived back on his land and saw his home and saw that his family had died in such a horrific way, he was paralyzed with sadness.

To make matters even worse, the following week a courier arrived delivering a letter with one simple phrase: "You should have moved away." Erlend's sadness turned to hate. He spoke with a local judge but they had no evidence to convict anyone. This is when Erlend began to lose his mind. From that time forward, he lived in his barn among his animals. He was never seen going into town, nor was he even seen on his property. He lived alone, eating bugs, worms, and rodents (so they said). Eventually, stories would arise that the barn was haunted, that he lived among the ghosts of his family. Young boys would sneak onto his property to prove their bravery by peeking in his windows, but many of these children never returned home. Many years later, a man named Edward Sooth, was charged with attacking and murdering Erlend, but was found not guilty. Sooth's son was one of the boys who went missing upon visiting the Norgaard's farm.

This was the story that was told to us when we bought this property in 2011. The old barn had long rotted away but a pole shed was built over the same location. The items in our pole shed were the things of his family that Erlend was able to retrieve from the ashes of his home. We were told never to remove the items from our pole shed, for they belong to Erlend, and Erlend's rage would be kindled against us.
Some locations may have last minute updates due to changing circumstances. Please visit the
attraction's website
and/or social media before going to double-check that they are open.
October 2023
Su
M
Tu
W
Th
F
Sa
1
2
3
4
5
6
7
8
9
10
11
12
13
14
15
16
17
18
19
20
21
22
23
24
25
26
27
28
29
30
31
Latest Reviews
There are no reviews for this listing yet!