Outbreak, Dread the Undead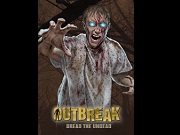 Outbreak, Dread the Undead
1808 21st Ave. N
Myrtle Beach, SC
Click To Call
843-444-0091
Review Us

Elevated pulse? Check! Something has gone awry in the Chemacorp Lab, and you get to find out what it is. Hint. It's infested with zombies! This totally fun scare will have your heart pounding as you walk through the facility's testing areas, morgue, and rotting basement to contain the zombies and prevent a worldwide outbreak. Beware glowing blue eyes and puffs of zombie-inducing Alpha Strain! Amazing experience? Check!


Outbreak - Dread the Undead - Sneak Peek
Latest Reviews
There are no reviews for this listing yet!