Labyrinth of Fear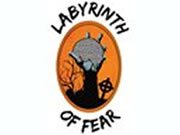 Labyrinth of Fear
17866 East Overland Road
Nevada, MO
Click To Call
417-667-4993
Review Us

Tales of hauntings are deep in the history of Nevada. With the souls that never came to peace from the Blue and Gray Battles, to the hangings on the Courthouse lawn, to the death of Madame Blitz at Cottey College ……. the potential for spirit unrest is great.

During the construction at Champion Diamonds, it was not uncommon to experience unusual, unexplained events. Years later, a medium was brought from New York to research for any paranormal activity. What she encountered was a soul with such a disturbed background, the grotesqueness of her actions can only be grappled in the labyrinth of your mind, challenging your senses of FEAR!

Join us on this expedition into the Labyrinth of Fear!
October 2019
Su
M
Tu
W
Th
F
Sa
1
2
3
4
5
6
7
8
9
10
11
12
13
14
15
16
17
18
19
20
21
22
23
24
25
26
27
28
29
30
31
Latest Reviews
Scary! Was very fun, took 20-30 to get through, considerable numbers of scenarios you pass through. We will definitely go back next year!

Posted Oct 2019

It was a really great adventure! Honestly, my first thought was that it was going to be just another lame haunted house, especially since it's in small town Nevada. Nope! It was fantastic! I really recommend coming here...I know I'll be back next year:)

Posted Oct 2019

So worth the drive! Want your heart pounding, mind racing never knowing what is around the corner this is the place to go!!!

Posted Oct 2019