The Hotel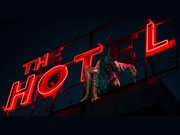 The Hotel
107 N. Railroad Street
Ahoskie, NC
Click To Call
252-287-6701
Review Us



Buried beneath the foundation of The Hotel there lies a secret… a makeshift mental hospital where the affluent hid their mentally ill and Dr. Jeremiah Hazzard and his staff performed unspeakable experiments on the patients. Evidence suggests that Dr. Hazard's unconventional treatments turned his patients into monstrous creatures and, when the treatments no longer satisfied his scientific curiosity, his staff willingly submitted themselves to his madness. Once the town learned of the atrocities being performed there, they quickly sealed every entrance and left all the inhabitants to die a slow and miserable death. For decades, it was the town's best kept secret until the entrance and Dr. Hazard's recordings were accidentally discovered. Now, the spirits of Dr. Hazzard and his patients once again roam the halls of this dreadful place, hellbent for revenge on the town that murdered them. Are you strong enough to defeat these angry souls or will you succumb to the bedlam and discover that some secrets are better left buried?
Some locations may have last minute updates due to changing circumstances. Please visit the
attraction's website
and/or social media before going to double-check that they are open.
October 2023
Su
M
Tu
W
Th
F
Sa
1
2
3
4
5
6
7
8
9
10
11
12
13
14
15
16
17
18
19
20
21
22
23
24
25
26
27
28
29
30
31
November 2023
Su
M
Tu
W
Th
F
Sa
1
2
3
4
5
6
7
8
9
10
11
12
13
14
15
16
17
18
19
20
21
22
23
24
25
26
27
28
29
30
December 2023
Su
M
Tu
W
Th
F
Sa
1
2
3
4
5
6
7
8
9
10
11
12
13
14
15
16
17
18
19
20
21
22
23
24
25
26
27
28
29
30
31
Latest Reviews
I like how the scarers interact and engage in convo without breaking character.

Posted Nov 2022

The scariest hotel ever!

Posted Oct 2022

DONT SKIP THIS ONE!!!!!!!!!We went on Saturday and it was an EXCELLENT haunt! My husband,son and myself travel to check out different haunted houses and let me tell you HANDS DOWN this was an excellent choice. They were hands on scares us which is unlikely with us. They called our names throughout the entire haunt and it was well worth the drive! The actors were amazing and played their roles fantastic. We even got pictures with all the characters at the end. Which not haunt we have been too has ever offered! We will be back for Christmas and the ghost haunt! Thanks guys for a wicked, haunted night!!!!! Y'all rock

Posted Oct 2022

Michelle & I thoroughly enjoyed it.Well, I enjoyed it a bit more because the actors all knew her name and talked to her through out the whole tour LOL .AWESOME experience !!!!

Posted Oct 2022

10/10 highly recommend!! very scary and thrilling!!

Posted Oct 2022

One of the best in eastern nc. This place is awesome. Great actors, you want touched but you will get grabbed and pinned in a corner. No guidance, you have to to find a way out. Actors are great and push the limits but not to far!

Posted Oct 2022

This place is creepy. I was seriously scared 😱. awesome actors and experience. We will be back !

Posted Oct 2022

Awsome. Very interactive. Our favorite

Posted Oct 2022

Great fun for those that like the jump scares. Beware, lots of touching from the actors though. Well worth the trip.

Posted Oct 2022

Intense, fun. Definitely will do this again

Posted Oct 2022

Really good, the actors were great! Later, I thought one of them were on top of the car. That is how good they were!

Posted Oct 2022

Great props, great actors. We had an amazing time

Posted Oct 2022

I enjoy the cracked ladies was my fav we had fun

Posted Oct 2022

One of the best haunted houses I've been through (and I've been through a lot!). Great props, great actors, excellent theme, cool special effects, make-up was off the chain - just an all around scary awesome time!

Posted Oct 2022

Everything was well thought out and scary! The characters were terrifying and so was the hotel. I got separated from who I was with and this place got us both good! More people need to come and enjoy this haunted experience.

Posted Oct 2022

Set inside an already haunted piece of Ahoskie's history, this haunt lives up to its potential. Very well done props and decor; detailed costumes and perfect lighting. You will not be disappointed. Warning, you will be groped (and I think I was even licked) Can't wait to go again!

Posted Oct 2022

I haven't done the haunted house, but tonight my husband and I did the ghost tour in the Garrett Hotel. Now for the past 7 years we have done EVERY haunted attraction in our area within an hour(ish) drive. This year we decided to branch out, when my husband suggested this ghost tour I was skeptical(it was a 90 mile drive) I assumed it was going to be a mediocre "haunted hotel" with speakers playing voices/knocks and light projected "spirits" BOY WAS I WRONG! This was hands down not only the coolest Halloween experience I've ever had, but probably one of the coolest experiences in general! The owner and the crew are awesome, the actual tour I won't speak much about as I don't want to set expectations as each experience will be unique. Only request I have is to offer all night stays(especially private!!) I would gladly make the trip again and plan on checking out their other attractions!

Posted Oct 2021

Very awesome

Posted Oct 2019