Scream Mountain
This attraction is closed for the 2020 season due to COVID-19!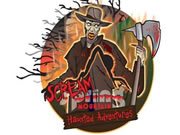 Scream Mountain
757 Spring Mountain Road
Spring Mount, PA
Click To Call
610-287-7900
888-305-5044
Review Us



CLOSED IN 2020 DUE TO COVID.

Haunted Hay Ride:
Beware of the Quarrymen who still roam the mountain, waiting to exact revenge on the unknown strangers who destroyed them. It's not safe to be on the mountain after dark...beware!

Starter Haunted Hay Ride:
Too scared to do the Haunted Hayride? Not sure if the kids are ready for the real thing? Try our Starter Haunted Hayride! Each night we will do the hayride while it is still light out without any actors in the woods. This hayride will allow you to enjoy the hayride and all the Amazing Halloween Scenes without anyone sneaking up on you.

Haunted Lift & Walk:
Take a chilling chairlift ride up the dark side of the mountain and work your way down the winding and dimly lit trail. Your reward when you make it down? A Haunted Hay Ride will be waiting to continue your journey, to the remains of the Quarrymen murdered in their sleep.

October Heart of Darkness Tours:
The Full Heart of Darkness Tour includes (7 zips, 4 challenges, 2 rappels, and a cargo net climb in the dark with a headlamp!

The Heart of Darkness Haunted Combo Tour go up the chairlift in the dark and get ready to brave the Haunted Woods Walk! Then follow your guides to cargo net to begin the Canopy Tour in darkness (4 zips, 3 challenges, 1 rappel, 1 cargo net climb). After your heart pumping Canopy Tour you'll embark on the terrifying Haunted Hay Ride!
This attraction is closed for the 2020 season due to COVID-19!
Latest Reviews
There are no reviews for this listing yet!