Best Maze Corn Maze & Trail of Terror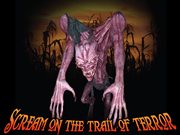 Best Maze Corn Maze & Trail of Terror
3803 Noble Road
Williamston, MI
Click To Call
517-521-2378
Review Us





Tired of Your Local Haunt Doing the Same Thing Year After Year; You Have Found the Right Place.

New Scenes include the Fog! Butcher Shop, Insane Asylum, Toxic!, Scarecrow Hollow…and More! and We Are Adding the Last Two Sunday Nights of October This Year! Word of Mouth Is Driving Up Demand; and We Do Not Want to Rush People Through and Will Never Conga Line You Like They Do in Big Cities! So We Are Adding Nights.

We traveled across the USA last winter to secure new props and also worked for prop makers who supply theme parks. We even have props for next year based on our ideas being built by these companies that they will sell to other haunts and theme parks. One prop maker featured on television a lot gave us first dibs on their new unveiling this year again.

THIS IS THE BEST EYE CANDY THERE IS. Can't spoil the surprises for you now with details…but it will be interactive and our best show yet of all 16 years! COMING TO OUR PLACE THIS FALL are new props from our visit to a national haunters convention we never do the same show twice! So if you are tired of your local haunt showing you the same thing year after year after year give us a tour. WE NEVER GIVE THE SAME SHOW TWO YEARS IN A ROW!!!

Starting to get the picture that this is no ordinary "farm haunt" or lame hayride where 20 strangers are crowded in with you? This is at Bestmaze. We needed a haunt worthy of equaling our mazes fame around the country and set out to do that. Becoming close friends with several of industries best scenery, prop, animatronic, & video effects helped us do that. We even hauled corn stalks this winter to a movie set in New Orleans! But all these connections is what lets us bring the best experience to you…in a corn field…on a farm in Michigan. Customers gave us the name "Bestmaze"; so we aim to keep that honor in all we do.
September 2017
Su
M
Tu
W
Th
F
Sa
1
2
3
4
5
6
7
8
9
10
11
12
13
14
15
16
17
18
19
20
21
22
23
24
25
26
27
28
29
30
October 2017
Su
M
Tu
W
Th
F
Sa
1
2
3
4
5
6
7
8
9
10
11
12
13
14
15
16
17
18
19
20
21
22
23
24
25
26
27
28
29
30
31
November 2017
Su
M
Tu
W
Th
F
Sa
1
2
3
4
5
6
7
8
9
10
11
12
13
14
15
16
17
18
19
20
21
22
23
24
25
26
27
28
29
30
Latest Reviews
Best Maze is fantastic. It is large and challenging and took about 1 and half hr to get through. Pathway was not muddy. Kids had great time along with adults. It was really fun exploring the maze.

Posted Nov 2017

It was just amazing. There were couple of times I screamed and jumped. The trail of terror is great too. Would come back with my kids next time.

Posted Nov 2017

Went there last time, and had lots of scary fun. Would not recommend the haunted part to young kids though. You might need some assistance to get out of the maze. The cidar and doughnuts were priced right. But more trashcans would have come handy.

Posted Nov 2017