The Haunted Hydro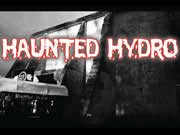 The Haunted Hydro
1333 Tiffin St.
Fremont, OH
Click To Call
419-307-6985
Review Us



WHAT IS WAITING FOR YOU AFTER YOU CROSS-OVER TO THE "DARK-SIDE" INTO OUR EVENT…?
The Haunted Hydro is an entire PARK dedicated to SCARY fun for ALL!

As we celebrate our 26 years of FRIGHT done RIGHT we have themed the park the "FREAKS come out at NIGHT" this year. Plan on arriving early so you can catch our traditional and amazing GHOUL-A-BRATION opening show that begins at 7:00pm nightly and features Music, Dancing, Fire, Parade of Ghouls and more!

This year we are featuring 2 main professional Hollywood-style state-of-the-art HAUNTED HOUSES….

The infamous "HAUNTED HYDRO" which has a theme this year of "HYDRO of the DAMMED" – We are taking the HYDRO back to it's INDUSTRIAL roots when it was an actual POWER PLANT used by the City for more than 30 years. There is currently a LARGE LEGAL BATTLE in our city about whether to KEEP or TEAR DOWN the BALLVILLE DAM that is just up the river from the HYDRO and actually fed the water to the HYDRO to generate the power over 75 years ago now… This HYDRO has been completely re-designed to give the look and feel of a CREEPY abandoned Power Plant that has been left in ruins and yes… you GUESSED IT… is inhabited by un-wanted beings from this world and the next…!!!!!

Our 2nd attraction is the NEW "CARNI-VILLE of FREAKS" – Imagine if you will… entering a complete THROWBACK in TIME Carnival and Amusement Park event unlike anything you have ever seen before… from BIG BERTHA'S FUN-HOUSE to the GAMES of DARE and SKILL to the FREAK-SHOW stage to the wooded walk-path to the forsaken CARNIE CAMP and GRAVEYARD where they bury all the losers… and MORE… as always at the HYDRO… EXPECT the UNEXPECTED… and PREPARE for SCARE!

AN EXTREME EXPERIENCE FOR ONLY THOSE BRAVE SOULS PREPARED TO SIGN THE "DEATH WAIVER" AND WILLING TO PAY THE PRICE TO FACE THE MANY SENSES OF FEAR WE HAVE WAITING FOR YOU AT BOTH ATTRACTIONS... ONLY FOR THE BOLD AND DARING… WHO CAN SURVIVE WITHOUT "CODE-PINKING" OUT…?

This seasons SIDE ATTRACTIONS include:
NEW – The TORTURE CHAMBER – High-Speed Escape Room – Patrons have 5-minutes to find the puzzle pieces to complete the puzzle and win a PRIZE all the while a video is giving them clues and a LIVE Monster will be interacting with them as well…!
The Ghoul's Gallery & Museum – Dark Photo Art Exhibit – featuring images from our 2nd season of successful and fun Group Photo Shoot Events all taken at the Hydro. Many photo's are for sale and we allow all visitors to vote for their favorite images and award the winning Photographer a special award at the end of the season. The MUSEUM features 25 years of HYDRO memorabilia from over the seasons – All FREE with admission

Crazy Bob's Shirt Shack & Gift Shop – Totally remodeled and featuring NEW and EXCITING Halloween specialty Gifts, Candles, Shirts, Creepy Cards, Deadworld Soda Pop, Deadly Grounds Coffee and much, much more this year!

Hit the Haunted Hooptie for Charity… that's right… you get to take a Sledgehammer, put on some safety goggles and gloves and beat up our car… ROAD-RAGE at it's finest Baby!!!!!!
Airbrush Artist Station
D-Five Jewelry & Gifts Shoppe – Adult & Children Novelty items for ALL ages!
Big D's Pizza and Concession Wagon
T-3 FIRE TOYS Gifts & More Store – Featuring a variety of unique Haunt & Dark Entertainment related items, one of a kind apparel and more!
September 2017
Su
M
Tu
W
Th
F
Sa
1
2
3
4
5
6
7
8
9
10
11
12
13
14
15
16
17
18
19
20
21
22
23
24
25
26
27
28
29
30
October 2017
Su
M
Tu
W
Th
F
Sa
1
2
3
4
5
6
7
8
9
10
11
12
13
14
15
16
17
18
19
20
21
22
23
24
25
26
27
28
29
30
31
November 2017
Su
M
Tu
W
Th
F
Sa
1
2
3
4
5
6
7
8
9
10
11
12
13
14
15
16
17
18
19
20
21
22
23
24
25
26
27
28
29
30
Latest Reviews
There are no reviews for this listing yet!