Ghost Town Tours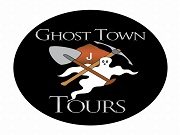 Ghost Town Tours
403 N. Clark St. Unit A-2
Jerome, AZ
Click To Call
928-634-6118
Review Us

We present the fascinating history and mysteries of Jerome!

Ghost Town Tours offers Historic & Haunted Tours in the largest ghost town in America. Our tours are extremely informative and full of surprises. Quite often, truth is stranger than fiction.

Our haunted tours are an interesting blend of history and mystery. You will be provided with EMF/"Ghost Meters", and visit sites of unsolved murders, tragic fatal accidents, and present day ghostly sightings. Your tour guide will present some of the most incredible accounts of the "Wild West" in Arizona, and the stories of Jerome's most infamous characters.
Latest Reviews
There are no reviews for this listing yet!