Higbee Horror Haunt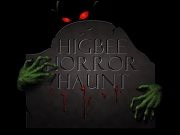 Higbee Horror Haunt
2936 Veneman Ave.
Modesto, CA
Click To Call
520-428-6821
Review Us


Do you love a good scare? Do you love the classic horror movies that are shown in October? If so, we have the perfect attraction for you and your friends this Halloween season. In October Higbee Horror Haunt will open its gates of terror in Modesto,CA. This walk-through haunted house has real-life characters designed to make your heart race and to put a little jump in your step.

Halloween Horror at Boomers:
We proudly present Halloween Horror at Boomers!- a thrilling new attraction coming to Boomers! this October!

For the first time Higbee Horror Haunt will open its gates and release its monsters on Boomers for 4 nights only! Come and enjoy a heart-pounding game of Zombie Zap lazer tag, while hungry zombies roam free looking for fresh victims. Then tiptoe through our 2 unique scare zones where a disturbing crew of wandering monsters is lurking around every corner. There are no walls, no cages, and nowhere to hide!
Do you think you can survive Halloween Horror at Boomers!?


EPIC Home Made Haunted House - The Higbee Horror Haunt 2015
Latest Reviews
There are no reviews for this listing yet!