Elizabeth City Historic Ghostwalk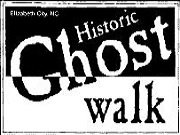 Elizabeth City Historic Ghostwalk
516 East Main Street
Elizabeth City, NC
Click To Call
(252)333-7202
888-936-7387
Review Us

Presented by the Elizabeth City Historic Neighborhood Association, the proceeds of this seasonal ghost walk are earmarked for historic preservation. Enjoy the storytelling, historic architecture, and perhaps even a specter sighting if you're lucky.

The Annual Historic Ghost Walk features Bootlegging, Prohibition and the Jazz Age, with visits from Alvin Sawyer, noted bootlegger in the Albemarle and Bennie Halstead, the sheriff's deputy that chased him for decades, among others. The Elizabeth City Neighborhood Association presents this combination history lesson and home tour with 1920's speakeasy music and entertainment at Arts of the Albemarle's Maguire Theatre.
Latest Reviews
There are no reviews for this listing yet!