Kitsap County Haunted Fairgrounds
This attraction is closed for the 2020 season due to COVID-19!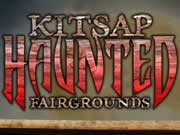 Kitsap County Haunted Fairgrounds
1200 Fairgrounds Road Northwest
Bremerton, WA
Review Us


CLOSED IN 2020 DUE TO COVID.

Kitsap Haunted Fairgrounds attracts victims from Bremerton, Silverdale, Belfair, Port Orchard, Poulsbo, Seattle and beyond for the annual scare put on in October. If you haven't made your way out here before, buckle up - you're in for a ride through your darkest nightmares.

Opening for business this October at the Kitsap County Fairgrounds: the "Hells Motel". Be sure to check-in to the establishment that's already being called sleazy and seedy - a bit unfair as construction isn't even complete! A doll convention has already booked the conference center: be advised this group has a decidedly warped view, and specializes in voodoo and other distasteful and downright creepy dolls. If you're looking for luxurious accommodations, the Hells Motel is not for you. If you're interested in a terrifying experience with unsavory, rude, surly, and sometimes homicidal staff - this is your place!

More Info:
Our October event takes place in 22,000 square feet of indoor space spanning three buildings on the fairgrounds. The entire haunt, ticket booth, and waiting area are indoors. Concessions are also available. Age recommendation: we generally leave the decision of age up to the parents. We have seen kids around the age of 10 go through without a problem, and adults in the very next group refuse to enter...

Zombie Paintball Hunt:
Bring your friends and do your part in wiping out the zombie invasion – across the street from the haunt at Thunderbird Stadium!


This attraction is closed for the 2020 season due to COVID-19!
Latest Reviews
There are no reviews for this listing yet!