Planet of the Dead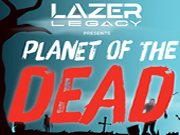 Planet of the Dead
32355 Yucaipa Blvd
Yucaipa, CA
Click To Call
909-790-7011
Review Us


The year is 2250 and Planet Aeris is continually war stricken. Amidst the chaos, a new threat has emerged.

Lead scientist of the Federation of Freedom, Dr. Galal has inadvertently unleashed an undead plague across the planet. Make your way through "Planet of the Dead," a limited haunted house event.

Choose your path. Become a civilian and find your way through the uncharted territory or suit up as a soldier and shoot your way through and guide the civilians to safety.

In collaboration with Eric Fox, featured in Syfy's "Face Off"
Planet of the Dead Promo Video
Latest Reviews
There are no reviews for this listing yet!