Mable's 6 Feet Under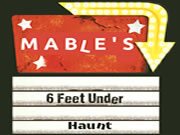 Mable's 6 Feet Under
1960 S. Anaheim Way
Anaheim, CA
Click To Call
657-549-2066
Review Us


Located across the freeway from Disneyland in Anaheim's Business Expo Center, this haunted attraction is an actual maze. Once you're there, our little girl Mable won't want you to leave. She lives in the motel....for all eternity. She has enlisted the help of the dead and undead motel staff to keep you in her tourist trap. Just when you think you have found your way, she will add another trick to turn you back. With too many animatronics and details to see in one pass through, Mable will keep you on your toes and out of your mind.?

Come to the MOTEL. Check in. Then get lost.
Latest Reviews
There are no reviews for this listing yet!