Revenge of the Ninja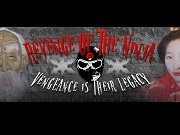 Revenge of the Ninja
18731 Crenshaw Blvd
Torrance, CA
Click To Call
310-503-3370
Review Us


The fallen Kage No Michi Ninjas will rise again!

Revenge of the Ninja is a Ninja-Themed Haunted Maze featuring an over 3000 square foot indoor/outdoor solid-walled labyrinth that includes heart-stopping displays, mind-boggling special effects, and nightmarish scare talent. Walk-through time is about 5 minutes and is guaranteed to scare maze veterans and fresh meat alike.

Betrayed by an ancient enemy, the Kage No Michi ninjas arise from their graves to take their revenge on unworthy trespassers. Enter if you dare, but remember, vengeance is their legacy!

And Don't Miss the Block Party on Halloween Night! On Halloween night, the maze will be accompanied by a FREE family-friendly Fall Festival Block Party including food (at additional cost), games, and fun for all ages.



Revenge of the Ninja Maze
Latest Reviews
There are no reviews for this listing yet!