Santa Fe Dead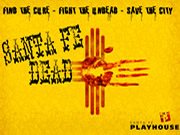 Santa Fe Dead
Santa Fe Place, 4250 Cerillos Road, unit 1264
Santa Fe, NM
Click To Call
505-988-4262
Review Us




An interactive zombie survival experience

SANTA FE DEAD is back...
?
Last year's hit Halloween adventure has returned and is hungry for brains.
In the spirit of Dawn of the Dead, the undead have taken over a section of the Santa Fe Place Mall.
Teams of up to 6, armed with foam dart guns, will fight their way through an abandoned
storefront trying to find the ultimate weapon, capable of taking down hoards of zombies.
One part haunted house, one part immersive theatre, and one part live action video game,
?this 45 minute adventure is recommended for brave souls 12 years of age and up. ??

Note: The zombies are allowed to touch you.

Missions depart 10 times per night between 6:20 and 9, between 1 and 4 on weekends, and from 4 to 9 on Halloween night.
Latest Reviews
There are no reviews for this listing yet!