Tours of Jerome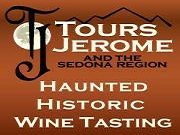 Tours of Jerome
110 Main St. Suite 1
Jerome, AZ
Click To Call
928-639-4361
Review Us


Drink wine, hear history, get spooked. Tours of Jerome offers premier wine tours (Wine & Dine Adventure, Arizona Wine Discovery, A Taste of Jerome), historic tours (Ultimate Historic Tour, Classic Historic Tour , Just Jerome Historic Tour), and haunted tours (Spirits of Jerome Tour, Classic Haunted Tour, Just Jerome Haunted Tour) in Page Springs, Cottonwood, and Jerome.

THE MINING YEARS
The mile high town of Jerome is built on the side of Cleopatra Hill and sits on what was once a huge deposit of copper, gold and silver. Immigrants from around the world eagerly came to work and perhaps even "strike it rich".

Jerome is "rich" in the history of the Verde Valley and in its past importance to the State of Arizona. We think you'll agree that taking a historic tour with us is fascinating and fun!

THE GHOST YEARS
However, labor unrest, fluctuating copper prices and depressions caused the mines to be closed in the early 1950's. Except for about 45 residents, everyone moved away to look for work. That's when the "spirits" began to make themselves known. Today, Jerome is known as one of the most haunted towns in Arizona.

Join us on a Haunted Tour and experience for yourself!

THE PRESENT
Art Galleries, Shops, Restaurants AND Wine Tasting Rooms. Fast Forward to the latest attractions in Jerome: Wine Tasting Rooms of local Verde Valley and AZ Winemakers!

Latest Reviews
There are no reviews for this listing yet!