Trail of Doom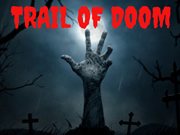 Trail of Doom
171 Canal Blvd. Ponte Vedra, FL 32082
Ponte Vedra, FL
Click To Call
904-834-7581
Review Us


Trail of Doom is moving forward with our Twisted Carnival. Since this is an outdoor event, masks are appreciated, but not mandatory. You will only enter the trail with who you arrived with to ensure that proper social distancing is being practiced.


1932, C. C. Halys Circus was in its golden years of wreaking havoc through the country. Boys, girls, children of all ages rallying to their nearest town to come see what C. C. Halys had prepared for them. A feast of all you could eat not just with your stomach but for your eyes too. The bright colors, the flashing lights a hypnosis of senses, laughter all around, rides spinning what seems out of control and the taste of cotton candy. What's not to love about the circus? Even the Mothers, fathers, young adults flocked for the entertainment the spectacle of it all. "Step right up and try your chance!" Participants pay for games of fortune to win prizes of gluttonous magnitude. Swing a hammer, ring a bell, and win a giant teddy bear to give to a loved one. Not looking to show off your strength maybe precision is your game, throw a dart and hit a balloon, you're a winner, have your pick of the finest stuffed toys. The main event of C. C. Halys, just like any fine circus, was the Clowns. Running around pulling pranks on hopeless numbers of casualties from dusk 'til dawn. Everything was going great until rumors spread throughout the newspaper headlines, "C. C. Halys Circus Under Investigation." Reports were flooding in of missing townspeople, that just so happened to coincide with circus destinations. No proof was ever found but, word of mouth alone was enough to shut down C. C's national tour. Talk from town to town said C.C. Halys was actually a sinister ground for twisted clown games. Through day victims are drawn in, mesmerized by the facade of temptations surrounding them. At night, the veil is lifted, and the truth is revealed, the games and pranks aren't what they seem. C. C. was never seen again, it is said his circus clowns still continue their games in what is now known as the Curious Carnival. Are you willing to try your luck? How curious are you?

The Trail of Doom is not for the weak minded. Imagine walking through your worst nightmares! This very DARK trail will leave you feeling scared and disturbed when you leave running for your life!!


Some locations may have last minute updates due to changing circumstances. Please visit the
attraction's website
and/or social media before going to double-check that they are open.
Latest Reviews
There are no reviews for this listing yet!