Twisted Realms Haunted House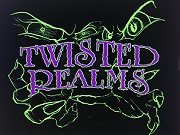 Twisted Realms Haunted House
700 W. Lexington Blvd
Glendale, WI
Click To Call
262-394-6871
Review Us



Twisted Realms comes to Milwaukee for our bigger, better, scarier, and more interactive season. At Twisted Realms, you don't just walk through a haunted house... you have to live the haunted house...

Twisted Realms is a very interactive haunted house. In several rooms, you'll need to find hidden exits, push buttons, pull levers, crawl... or any other crazy thing to escape the room; so it's really up to you how long you're inside. On average, it takes about 25-35 minutes to get all the way through.

Here are a few things that make our haunt stand out:
1) We have a full bar.
2) We are located along side a restaurant/ microbrewery with delicious food
3) Though our house is scary our bathrooms are not - They are clean and well lit and above all REAL bathrooms!
4) A portion of our proceeds goes to support local high school theater programs.
5) We are pleased to say that in response to the great need for building supplies needed for hurricane and brush fire need, we were able to build our entire 10,000+ square foot haunt using 100% recycled or reclaimed wood.
Twisted Realms Haunted House Promo 2017
Latest Reviews
There are no reviews for this listing yet!