Anderson Hotel Haunted House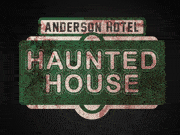 Anderson Hotel Haunted House
118 S Main Street
Lawrenceburg, KY
Click To Call
502-604-3725
Review Us

You might not know it from first glance, but the quaint and lovely little town of Lawrenceburg, Kentucky is home to one of the most haunted buildings in the entire state. The Anderson Hotel, which has been abandoned for over thirty years, is the unlikely site of some of the most violent and visually stunning paranormal activity documented in the last several decades, manifesting on camera in the form of aggressive bite marks from invisible jaws and producing a mysterious haunted artifact that continues to stump researchers.

In fact, the ghostly activity inside the long-forgotten walls of the Anderson Hotel has gotten so terrifying, so violent, and so unpredictable that the location has been sealed off and all ghost hunts ceased... until now.

The Anderson Hotel is now opening it's doors to the public as a Haunted House for the first time EVER! We've checked everything off with the current residents... they're cool with us.
September 2019
Su
M
Tu
W
Th
F
Sa
1
2
3
4
5
6
7
8
9
10
11
12
13
14
15
16
17
18
19
20
21
22
23
24
25
26
27
28
29
30
October 2019
Su
M
Tu
W
Th
F
Sa
1
2
3
4
5
6
7
8
9
10
11
12
13
14
15
16
17
18
19
20
21
22
23
24
25
26
27
28
29
30
31
Latest Reviews
This haunted house was so good!!! It was well worth $10 I will be back can't wait for it to re-open!

Posted Oct 2018