The Devils Knot North Louisiana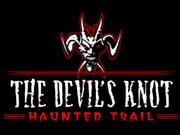 The Devils Knot North Louisiana
2663 Mayflower Rd
Haughton, LA
Click To Call
318-349-2329
Review Us




Welcome to the devils knot ! We are a haunted walking trail thru the hollows and piney woods of North Louisiana. The boys came home to mama after years in the crazy house convicted of numerous crimes against humanity including and not limited to kidnapping and cannibalism . Mama has waited years for her boys to come home and now they all Wait for YOU ....if you dare to walk the KnOt . Can you make it thru ?
Be sure and wear closed toe shoes you WILL be walking on an uneven trail thru the woods . If it has been raining please be aware it might be muddy . This is an outdoor haunt thru the woods. We try and keep things as safe as we can but we cannot do anything about the weather or Mother Nature. Everyone that enters MUST sign a waiver . Everyone must understand and assumes the risk of entering an outdoor haunt . The safety of our haunt is of the utmost importance to us here at the KnOt. Having said that all who enter assume and understand the risk of an outdoor haunt . The trail has uneven areas ..we cannot control the environment. This is a high intensity scare . If you have a medical condition such as heart problems, Epilepsy etc. this haunt is not for you . We do use flashing lights and even though we DO NOT touch we are a very strong , high intensity scare. All who enter assume the risk and enter at their own risk.
Some locations may have last minute updates due to changing circumstances. Please visit the
attraction's website
and/or social media before going to double-check that they are open.
Latest Reviews
We loved it. The make up and light effects are awesome. The chain saw and man that crawls out on his knees are wonderful.

Posted Oct 2021

Most excellent Haunted, Scary Characters I have ever seen. I wet my pants I was so frightened.!!! I absolutely horrified but, I can't help and go back. The best I've ever seen.!!!

Posted Oct 2020

This is the Best Haunted Trail I have EVER been on.!!!!!!!!!!!! The people were so nice upon entry and then, when on the trail, they scared the Bejesus out of us. I like to think I am brave but that it was just too much walking through the woods with a party of five. We were all crying with fright.!!

Posted Oct 2020

Very scary ! We loved it and will be back next season '

Posted Mar 2019

Loved it !!! Everyone was awesome from the parking crew to the guy selling the tickets . The actors were super creepy and did not disappoint . My group screamed the entire time lol . We got to meet the owner and she took time to talk with us and take pictures of our group . We had a blast and will be back next Halloween ?? very happy five stars !!

Posted Jan 2019

We brought a group up from south Louisiana wait time was comparable to otger big name haunts so we were fine with thst . The weather was very rainy but the owner stayed open for the crowd and we were very appreciative ! The actors were very scary .. the costumes were off the chain ! We were very impressed with the knot and will come back next season ! Thank you for going above and beyond for your customers ??

Posted Dec 2018

Wait times were long, great it's going to be a high quality experience and worth the wait. Man was I let down first off, inside their staging area (a horse arena) , there was a tent to buy over priced shirts, and some Walmart Halloween decorations scattered ariound, other than that, there was not much else to do besides stand in the mud and wait They had a food truck which turned out to be the best thing going for the place. The scariest thing about the entire experience was the junk yard the trail was carved into. I'm pretty sure the lawn keeper quit a few years ago. The haunted trail itself was fairly decent. The actors were actually pretty good but their decor was a bit cheesy. Lots of low budget decorations and palettes everywhere. Price was cheap enough that I didn't feel completely taken for a fool. If it was any more expensive than it was I would have requested a refund. Honestly, not worth the hour long drive.

Posted Oct 2018

Absolute great time at Devils KnoT. Their trail was very well decorated and the actors were very scary. Price is much better than other trails and houses. I'll definitely be back! Only suggestion would be to have groups wait a little longer so the group behind you doesn't catch up.

Posted Oct 2018

Actually scary! Paked with actors. The decorations and costumes are excellent. It is a must see and the price is amazing

Posted Oct 2018

Had great time ... very scary .. very awesome place !!

Posted Jul 2018