Forest O'Fears - The Haunting at Cedar Lane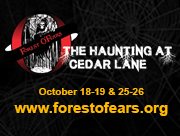 Forest O'Fears - The Haunting at Cedar Lane
235 Cedar Lane
Ossining, NY
Click To Call
914-620-2514
Review Us



Closed for the 2022 Season, but we promise, 2023 will be EPIC.

We heard your cries for a scarier ride...

Just cruising through the woods didn't fill your need? Maybe what's next will be more your speed.

A house so haunted we needed two whole floors, good luck finding your way out these doors!

A neighborhood butcher will "meat" you inside; he's great at his job, so don't try to hide.

And don't run from that lady, the one for the birds-- you may find some wisdom in some of her words.

The Confusion Room will make you crazy. Don't give up! Don't be lazy!

Stay quiet in the Morgue if you think you are able, please keep hands and feet away from that table.

Then once on the ride, there is no time to stop. At the end, an old friend, and things that go POP!


Some locations may have last minute updates due to changing circumstances. Please visit the
attraction's website
and/or social media before going to double-check that they are open.
Latest Reviews
if you love haunts this is a must! I had nightmares for days and I'm not sure I'm fully recovered still... the makeup made these creepy characters seem so real and they messed with my nose sensors too with smells, I will never have to wonder what rotting dead smells like now I know! Run don't walk to see this place!

Posted Oct 2019

Used to be a hayride. Now you just walk through. Great sound, lighting, and makeup. Scary as hell and a lot of fun!

Posted Oct 2019

Dont let the fact that this haunt is created and staffed mostly by young kids and volunteers deter you from going to see it. I was creeped out from the beginning to the end, and REPEATEDLY, GENUINELY, SURPRISINGLY scared throughout the trail. I consider myself difficult to scare, and I got the crap scared out of me!!! This event has the most bang for the buck, is very organized, (NO LONG LINES!!) and is non profit for the SPCA! For $20 I'm going back again this weekend!!!

Posted Oct 2019

This is an amazing collaboration between kids and adults. It well done and shows lots of creativity. The scenes and themes are all new every year! Can't wait to see what they are cooking up for next year.

Posted Oct 2019

I've never WANTED TO RUN SO MUCH! EXCELLENT! I will see you next year!!

Posted Oct 2019

This haunt has stepped up its game this year. Decor is on point with special effects and lighting. I strongly recommend listening to 13+ age restriction. I saw a 13-year-old curled up on the side of the trail after the haunted house portion of the haunt.

Posted Oct 2019

Unbelievable what this group can do. Where there is a will, there is a way. Made me gasp for air!! Loved it.

Posted Oct 2019